Job Board Data Pollution: The Nefarious Underworld of Fake Jobs (Part 1)
Dive into the dark side of job boards with LinkUp as we expose data pollution. Uncover fraudulent listings and discover why accurate predictions rely on sourcing data from company websites directly.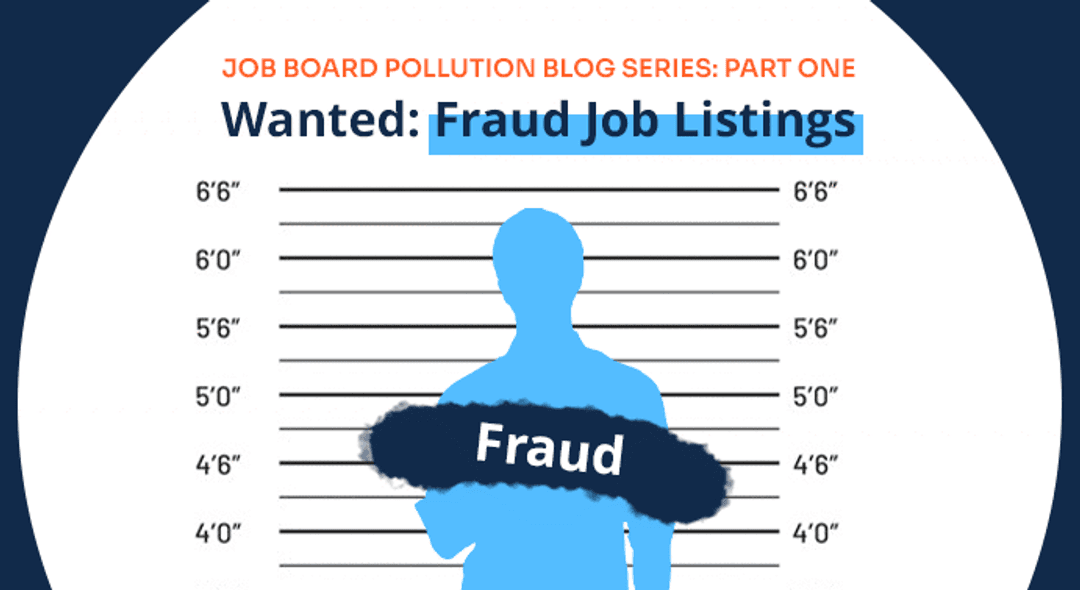 This month at LinkUp, we're staring down the great villain of job market analysis: the data pollution seeping out of job boards across the internet.
Recently we've taken up the problem of "ghost jobs"–the apparent trend of hiring managers listing jobs without an intent actually to hire for them. Some analysts have claimed ghost listings are prevalent enough to significantly inflate the measure of ongoing market tightness–as of this writing, the U.S. Chamber of Commerce reports 68 workers for every hundred open jobs in the country.
But ghost jobs are a misinterpretation of the problem. The true culprit behind the alleged hiring disconnect is bad data. The duplication, expired listings, and fraudulent job posts rampant on online job boards contribute enough false and swollen signal to distort any analysis of the job market that leverages their data.
In this post, we take a closer look at fraudulent listings: fake jobs posted to job boards with the singular intent of scamming prospective employees.
The Better Business Bureau has tracked a major rise in job fraud in the last decade, particularly since the pandemic, with over 14 million job-seekers exposed to scams each year.
Operating primarily through the easily accessed and widely used platforms of online job boards, a new generation of fraudsters advertise alongside reputable companies, whose presence lends the fake listings a veneer of legitimacy. Broadly, fraudulent job listings come in two guises: either entirely made-up companies offering high wages for little work or profiles impersonating well-known employers in urgent need of workers. The latter scam is known as job phishing and accounts for the bulk of job fraud–in fact, the BBB found that the largest number of reporting victims believed they were being hired by Amazon and Walmart.
All job scams deploy similar tactics–usually they offer job seekers too-good-to-be true terms in exchange for personal information like social security numbers, credit card information, and driver's licenses. Often, these pseudo-employers will extend offers on the condition that applicants pay a fee upfront. These listings obviously never lead to legitimate hires; but, at an alarming rate, they do achieve their aim of pilfering from applicants. According to the Federal Trade Commission, Americans lost over $68 million to employment cons in the first quarter of 2022 alone.
In a long-term study released in 2020, the Better Business Bureau found that nearly 60% of job scams take place on job boards, with 32% of scammers engaging victims on Indeed and 7% on LinkedIn. Leading job boards maintain they have a handle on the problem and have built out robust search quality teams to review and remove spam or scam content. For instance, LinkedIn said that it proactively removed 87.1 million fraudulent listings in the first half of 2022.


But, as usual, the bad guys are a step ahead. Millions of fake jobs are posted to job boards every month, and these platforms, which depend on easy and abundant job posting to satisfy their client base, simply cannot stem the tide quickly enough.

Take LinkUp as one example.
In recent months, we've seen over a dozen fake listings, claiming to be LinkUp jobs, crop up on LinkedIn. They use our name, our logo, and appear in LinkedIn searches for our company alongside real jobs we're actively hiring for. Now, a closer look at these ads reveals the red flags–some identify LinkUp as Los Angeles-based when, in fact, we operate out of Minneapolis, they list bogus email addresses, and trade in the cryptic, grammar-averse language of scammers. But, from the vantage of data mined from job boards, these fake listings give the impression that LinkUp is hiring for two or three times the number of jobs that are actually posted on our website. When job board data is taken as accurate, it's easy to see how this dynamic replicates itself across the hiring economy and leads to inflated hiring signals.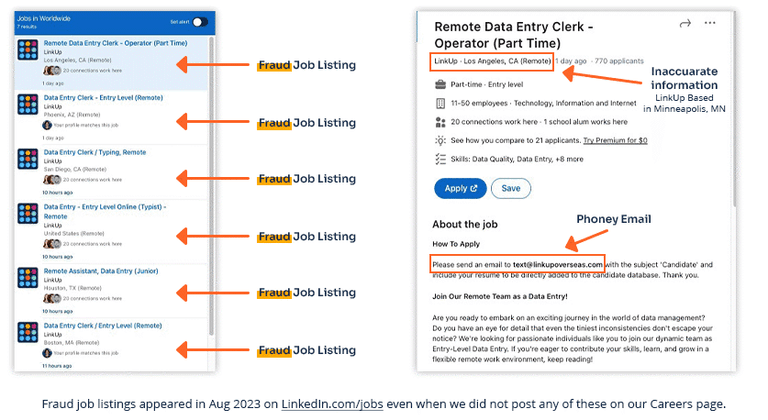 In a world of bad signals, what's a job data analyst to do? Answer: get your job data from as close to the source as possible. LinkUp never scrapes data from job boards. We index job listings directly from company websites; they are infinitely less accessible to bad actors, much more transparently and consistently monitored, and offer the best possible reading of a company's intent to hire. It's a simple but indispensable truth: better data leads to better predictions.
Keep reading this series to learn more about the factors polluting the data on job boards and how LinkUp makes data quality its first priority.

Insights

:
Related insights and resources
The Soft Landing Happened. Game Over. America Won. And October NFP Will Be 210,000.

Read full article
Stay Informed

:
Get monthly job market insights delivered right to your inbox.
Thank you for your message!
The LinkUp team will be in touch shortly.