Amidst An Abundance Of Uncertainty, The U.S. Labor Market Is Flashing Some Serious Warning Signs
Like Alice in Wonderland, it's exceedingly difficult to make any sense of the world of late as it turns upside down on what seems to be a daily basis.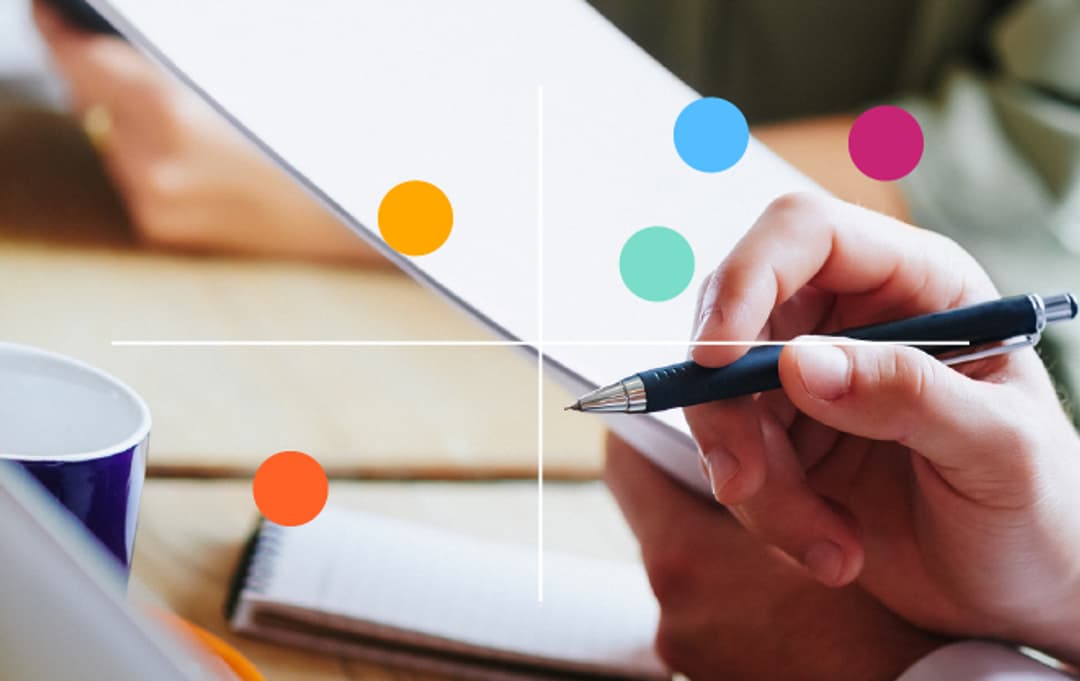 Like Alice in Wonderland, it's exceedingly difficult to make any sense of the world of late as it turns upside down on what seems to be a daily basis. Between Trump's poll numbers, China's epic meltdown, off-the-charts cop killing (both ways), raging forest fires out west, Hillary's inability to get her campaign going, and record-setting market gyrations to name just a few examples, each day is filled with headlines that increasingly magnify the sense of chaos and insanity. It's gotten so crazy that the Pope is forgiving abortions and the Mets are winning the NL East.
On the economic front, things are equally as schizophrenic, as I pointed out ad nauseam in our July jobs forecast blog post. Unfortunately, our jobs data from August has only added to the confusion, and after days of stewing over the numbers, I am no closer to making sense of them than I was on Tuesday night. So with time running out to get our forecast in to Bloomberg, I am left having to cut short our analysis, abbreviate my write-up, and essentially flip a coin as to what August's NFP payroll number will be on Friday.
So here's the quick summary of the data: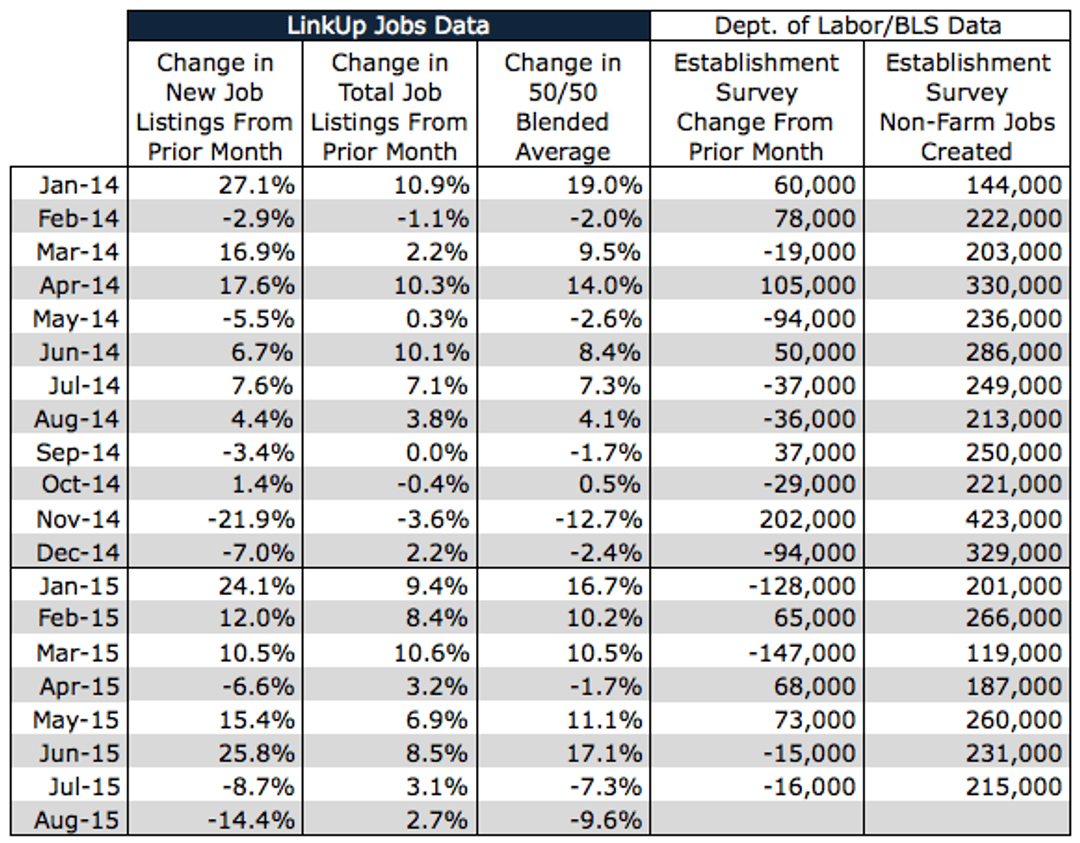 After huge gains in new and total job openings in our job search engine (which includes 3.3 million jobs updated daily from 50,000 company websites which means that the jobs are always current, with no duplicates or job board pollution) in May and June, particularly new job openings which jumped 26% in June, new job openings have plummeted in July and August. With typically a 30-60 day lag in the amount of time it takes for changes in job openings to be reflected in actual payroll numbers, the question is whether August's NFP report will rise sharply due to June's jump in new job openings or drop precipitously as a result of the decline in new job openings in July.
To try to get some insight into which data point might prove prescient, we can look at our monthly Jobs Duration data which measures how long job openings were in our search engine before they rolled off, presumably because they were filled with a new hire.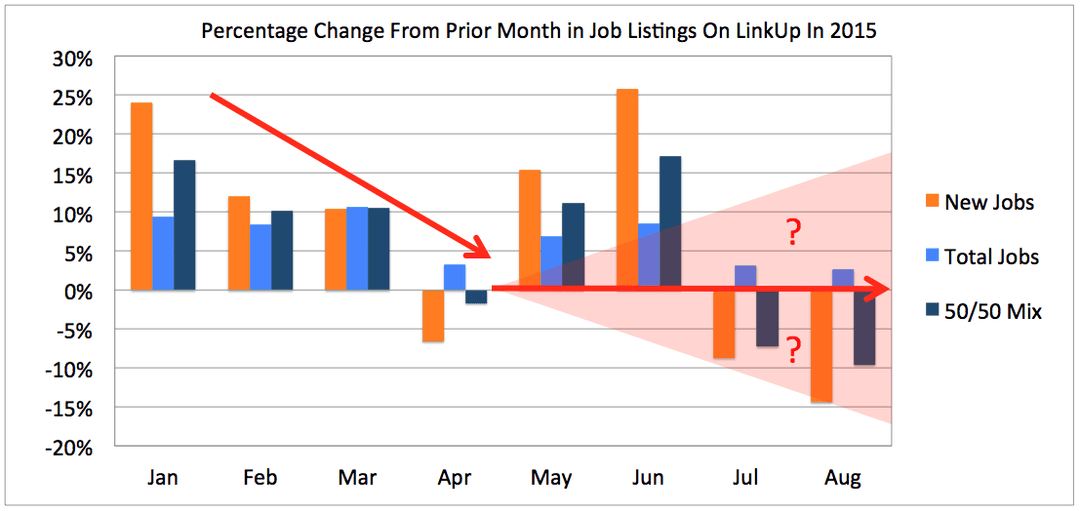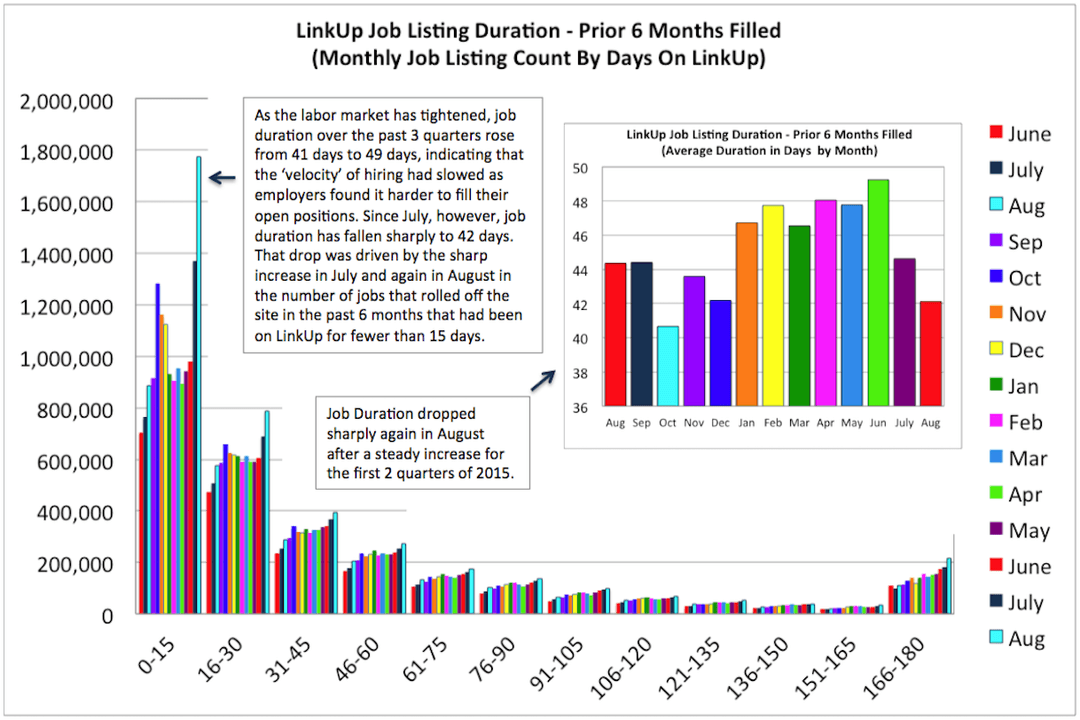 As the chart, left, shows, 4 million jobs rolled off LinkUp over the past 6 months, and those jobs were on the site for an average of 42 days. That average duration is down from 49 days just 2 months ago. So for 9 months between last October and this past June, the velocity of hiring across the country slowed considerably (as evidenced by an average job duration which rose from 41 to 49 days) as the labor market tightened and employers found it increasingly difficult to fill openings. Since then, however, job duration has fallen again, quite dramatically, in fact.
But the key question is whether companies are once again filling positions quickly or simply removing openings that they no longer intend to fill. Perhaps the most telling data point in the chart above is the 1.8 million jobs that rolled off LinkUp between March and August that were in our search engine for less than 15 days. That's a massive 50% increase from the same statistic in June, indicating that a huge percentage of the 2 million new job listings that appeared on LinkUp in May and June disappeared within 2 weeks.
To get a sense of how massive the jump in new jobs in Q2 actually was, as well as how quickly it came back down, compare new job volatility in May and June to the 5% average increase in new job listings for those 2 months over the past 6 years.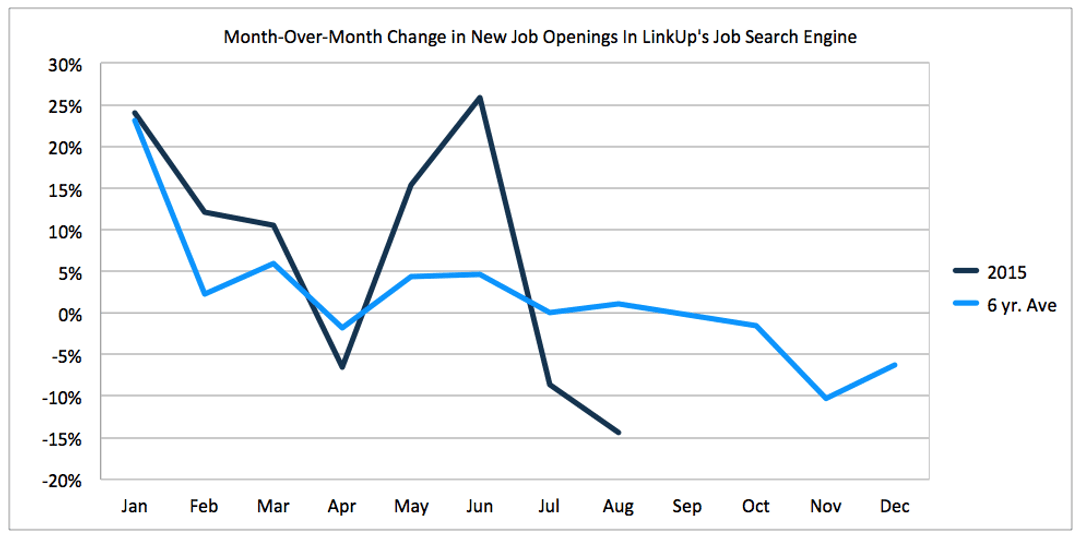 As an aside, the chart also perfectly depicts seasonal hiring trends over the course of a calendar year. As the blue line indicates, employers post a ton of new job openings in January and taper off the rate of new job openings until a slight uptick in the spring. New job openings are typically down in the summer, rise slightly with another hiring push each fall, followed by a complete dearth of new postings in the 4th quarter.
But back to that huge, anomalous, short-term spike in new job postings in May and June…
While it could very easily be the case that those job openings disappeared because they were filled by new hires, it could also just as easily be the case that employers took down the openings in a bit of a panic because they were spooked by (take your pick): China, a rising dollar & shrinking exports, sluggish global growth, growing wage pressure (which is most assuredly occurring despite the lack of visibility of it being so in any government data), falling consumer confidence, and the uncertainty about when the Fed might increase rates and how the economy and the markets might react, not just in the U.S. but also around the world.
So if those new job openings were filled with new jobs, Fridays' jobs report could come in as high as a net gain of 335,000 in August. But if all those new job openings were quickly removed due to growing uncertainty and perhaps even pessimism about what might be in store for the rest of the year, then Friday's jobs report could be as low as a net gain of just 115,000 jobs in August. That's a fairly large gap, especially given the relative consistency of monthly job gains through the first 7 months of the year which also points to a 3rd possibility which is some combination of both factors which would result in a perfectly bland but not discouraging jobs report of around 225,000 jobs.
The only remaining data point is our job listings data from August. Last month, new job listings fell 2% while total job openings rose 3%. As with the deluge of dichotomous data discussed last month, it's difficult to determine whether to be discouraged by the decline in new job openings or delighted by the growth in total job openings.
In terms of jobs by category, the data is nearly identical, with new job listings dropping 2% and total job listings rising 3%.
While our 'raw' data for August from the 2 charts above is somewhat inconclusive, our paired-month methodology and 50/50 blended mix of the change in new and total job openings that we use for our forecasts results in a decline of 9.6% in August.
And while Friday's jobs report could easily surprise to the upside with a 300K+ number (reflecting the increase in LinkUp's job listings in June), it is a virtual certainty that the declines we've seen in new job openings on LinkUp over the past 2 months will eventually be reflected in a continuation of declining net job growth this fall. So if for no other reason than to anchor myself to the only bit of certainty I can even faintly discern in the chaos that is the economy these days, I am forecasting a net gain of just 135,000 jobs for August, a rather dismal number for Friday's jobs report. The declines we expect might not happen until later this fall, but the labor market is most definitely flashing some serious warning signs.
Insights

:
Related insights and resources
Stay Informed

:
Get monthly job market insights delivered right to your inbox.
Thank you for your message!
The LinkUp team will be in touch shortly.