August 2023 Jobs Recap: Labor Market Analysis
Sep. 06, 2023
Source: LinkUp
How is the job market right now? In our August 2023 labor market analysis using LinkUp job data, we saw an overall increase in U.S. job listings indicating an improving job market from last month.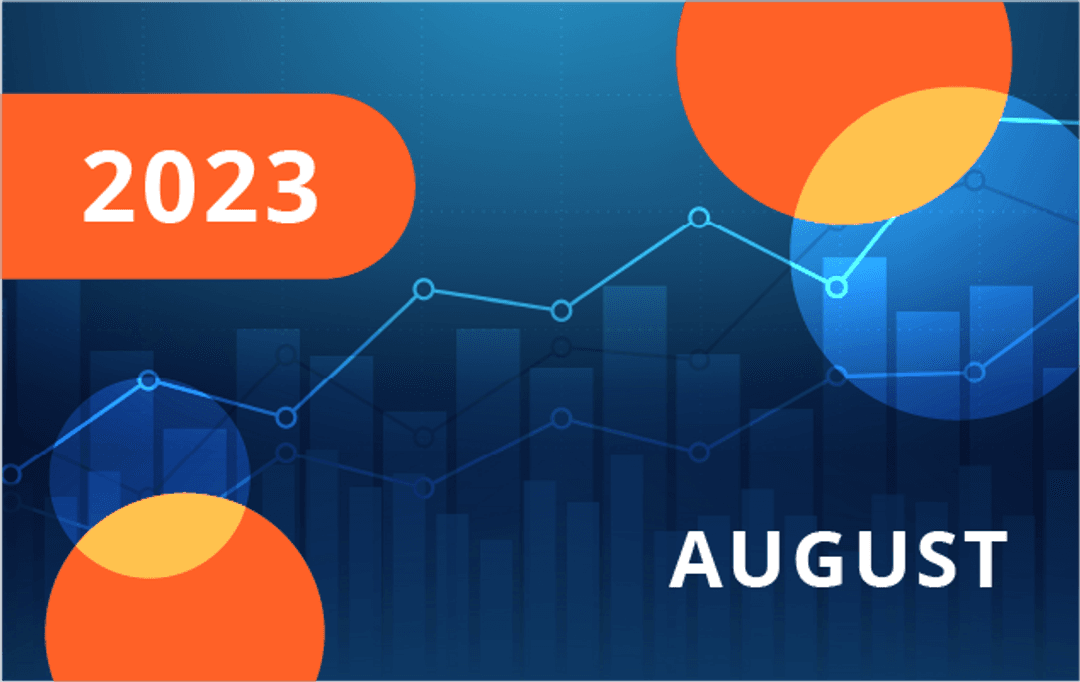 With Labor Day and the anticipation surrounding the new school year behind us, we've analyzed LinkUp's U.S. job data for August. Overall, active job listings increased by 3.0% and newly created job listings increased by 13.6%. Looking at the majority of industries and occupations, both experienced growth. Let's break down the specifics of the job market data.

CLOSED DURATION
The entire U.S. economy tracks hiring velocity by measuring closed duration, or the average number of days that companies post job listings on their websites before removing them. As the average number of days a job listing remains live increases, hiring velocity slows.
During August, the average time it took for job listings to close was 45.8 days. Hiring velocity has continued to slow down since May 2023 when it was 40.9 days.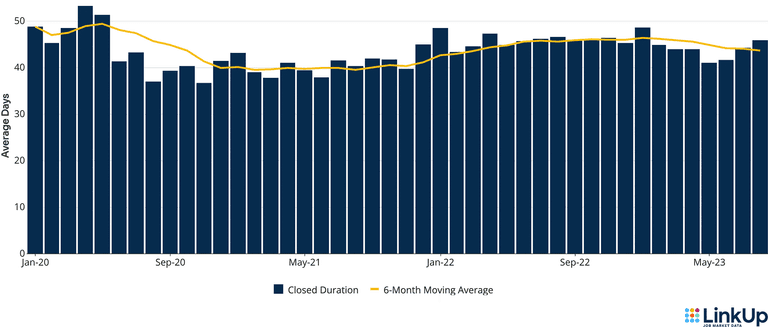 JOBS DATA BY STATE
98% of the United States experienced an increase in active job listings, but Vermont surpassed all the other states with an increase of 16.9%. After Vermont, the states and territories that saw the most growth in listings included:
South Dakota (+10.4%)
Nevada (+8.1%)
Idaho (+7.9%)
Rhode Island (+7.0%)
Oregon (6.8%)

JOBS DATA BY INDUSTRY (NAICS)
Most industries experienced growth in August, according to our labor market data. While last month in July, only 13% of industries saw an increase, in August 65% have seen an increase. The most notable is Administrative and Support and Waste Management and Remediation Services with the most growth by 19.4%. The following industries were a little further behind:
Transportation & Warehousing (Postal/Couriers/Warehousing) (+12.1%)

Retail - General Merchandising (+9.9%)

Construction (+7.8%)

Information (+7.0%)

Wholesale Trade (+6.8%)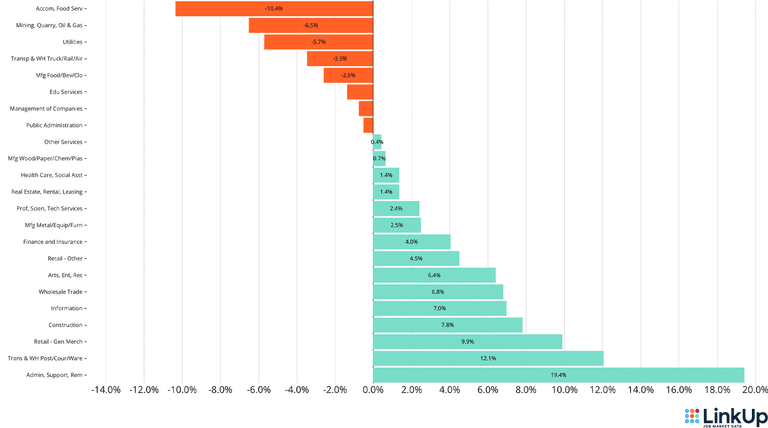 JOBS DATA BY OCCUPATION (O*NET)
In a similar trend to U.S. industries, U.S. occupations also saw larger growth in August. While last month in July there was a measly 14% of industries that saw growth, in August there was 76% industry growth in the U.S. The occupations with the most and least growth included:


LINKUP 10,000
The LinkUp 10,000 is a daily and monthly analysis that shows the number of job openings from 10,000 global employers with the most U.S. job openings in LinkUp's dataset.
The LinkUp 10,000 has seen a small increase of 2.9% from July to August; and from a 4 month view, it's up by 0.8%. In contrast, decreased -9.4% compared to a year ago.


S&P 500 LINKUP JOBS INDEX
The S&P 500 LinkUp Jobs Index measures open jobs posted by the companies in the S&P 500 and is published on the S&P website. It can be viewed in aggregate or by sector.
The S&P 500 LinkUp Jobs Index indicates a 0.9% increase in listings over the past 4 weeks, with a rise in:
Information Technology (+4.8%)

Materials (+4.3%)

Communication Services (+3.0%)
Sectors experiencing the largest drop in labor demand were:
Energy (-5.2%)

Health Care (-3.2%)

Financials (-2.3%)

LINKUP MONTHLY FORECASTS
Stay tuned for our JOLTS forecast next Wednesday which is available before the Bureau of Labor Statistics (BLS) officially posts their data. JOLTS data includes estimates of the number and rate of job openings, hires, and separations for total jobs from private employers, by industry and by establishment size class.
Also, each month before the BLS, we post our nonfarm payroll (NFP) report forecast based on our LinkUp Job Market Data. The NFP report is based on total U.S. job vacancies and provides insight into anticipated growth or decline in labor demand.
DATA DISCLAIMERS
LinkUp's monthly data recaps incorporate revisions to previously-reported monthly data with the purpose of reporting the most accurate and up-to-date data points. For more information on what circumstances may impact data revisions, visit our Data Support Center.
Insights

:
Related insights and resources