July 2023 Jobs Recap: Labor Market Analysis
Aug. 02, 2023
Source: LinkUp
How is the job market right now? In our July 2023 labor market analysis, we see a small slow down. Read the full article and take a look at the labor market graphs for more insights.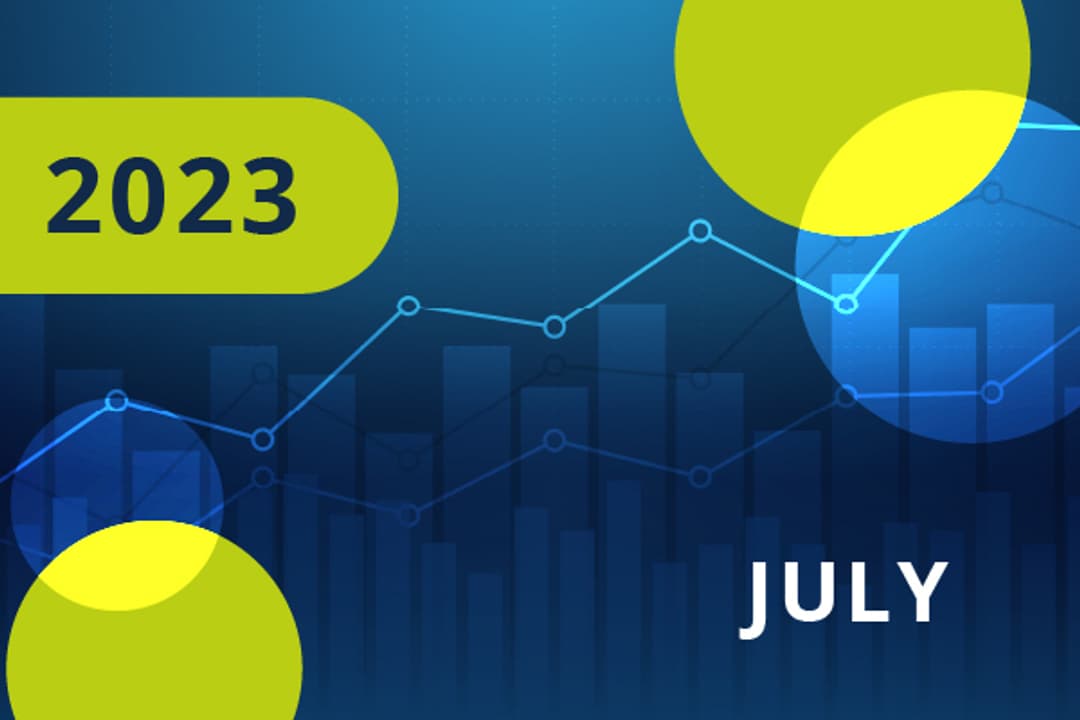 While it's still the middle of summer, the 2023 labor market cooled off from June to July. LinkUp's data shows newly created jobs dropped by -8.0% and job listings removed from employer websites increased by 5.5%. So, it's official, there was a slowdown in hiring. As far as active job listings in the United States, there was only a small decline of -2.1%. Overall, active job listings in the U.S. have continued to plateau since April of this year.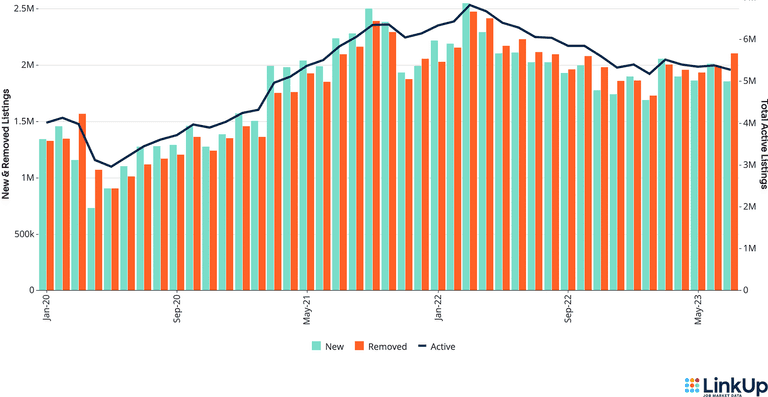 CLOSED DURATION
The entire U.S. economy tracks hiring velocity by measuring closed duration, or the average number of days that companies post job listings on their websites before removing them. As the average number of days a job listing remains live increases, hiring velocity slows.
This month in July, it took roughly 45 days to fill job openings, which was +9.8% longer than June 2023, showing a slowing hiring velocity. The last time hiring velocity slowed at a similar rate was in January 2023.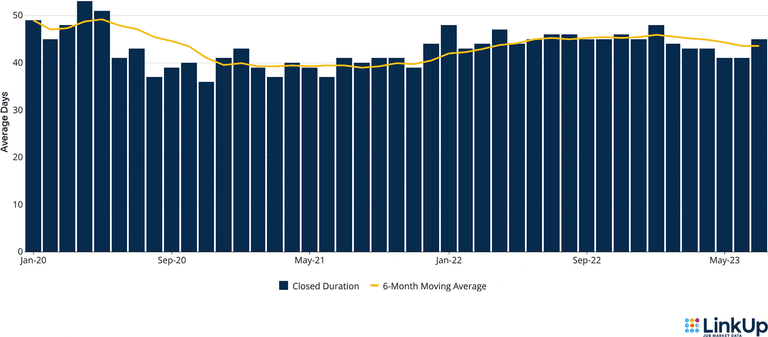 JOBS DATA BY STATE
During the month of July, 79% of the United States saw a decline in job listings. The states and territories that saw the largest decreases in listings included:

Puerto Rico (-6.9%)

Michigan (-5.2%)

Delaware (-5.0%)

Maryland (-4.8%)

North Carolina (-4.5%)
However, some states saw minor growth, most significantly Mississippi (+2.7%), Montana (+1.8%), and Louisiana (+1.6%).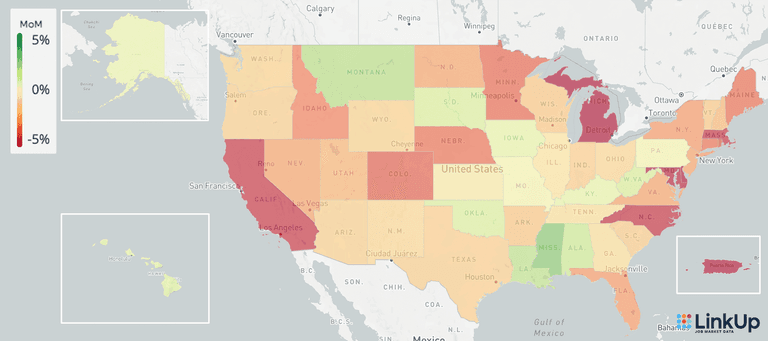 JOBS DATA BY INDUSTRY (NAICS)
LinkUp's labor market graph depicting active job listings by industry shows a large drop in labor demand in July. 87% of industries saw a decline in job listings. The following industries were most affected:
Utilities (-15.6%)

Manufacturing Wood/Paper/Chemical/Plastics (-7.5%)

Retail Trade - Sporting Goods/General Merchandise (-7.3%)

Information (-7.0%)

Mining, Quarry, Oil & Gas Extraction (-7.0%)
Only two industries saw job listings increase from last month–Manufacturing Food/Beverage/Clothing (+7.4%) and Professional, Scientific, and Technical Services (+3.1%).


JOBS DATA BY OCCUPATION (O*NET)
Now, let's look at active U.S. job listings from the perspective of occupations.


Analyzing labor demand by occupation gives us further insight into the overall slowdown in labor demand during the month of July. From June to July, the top five occupations which experienced the biggest decline in demand included:
Protective Service (-7.8%)

Healthcare Support (-7.7%)

Architecture and Engineering (-7.0%)

Legal (-6.4%)

Life, Physical, and Social Science (-5.6%)
The only two occupations which saw growth, Food Preparation and Serving (+0.8%) and Personal Care and Service (+0.7%), were negligible. Educational Instruction and Library occupations had a 0% change in listings from June to July, however we expect those job listings to pick up in August.

LINKUP 10,000
The LinkUp 10,000 is a daily and monthly analysis that shows the number of job openings from 10,000 global employers with the most U.S. job openings in LinkUp's dataset.
The monthly LinkUp 10,000 shows a plateau in the labor market for the last several months with only slight changes. In July, there was a small decline of -2.1%, and our 4-month view has seen a -4.4% decline.


S&P 500 LINKUP JOBS INDEX
The S&P 500 LinkUp Jobs Index measures open jobs posted by the companies in the S&P 500 and publishes on the S&P website. It can be viewed in aggregate or by sector.
The S&P 500 LinkUp Jobs Index shows that listings were down -0.1% over the past 4 weeks, with an increase to:
Real Estate (+2.8%)

Communications Services (+2.2%)

Information Technology (+1.8%)
Sectors experiencing the largest drop in labor demand were:
Financials (-4.9%)

Industrials (-4.4%)

Utilities (-2.8%)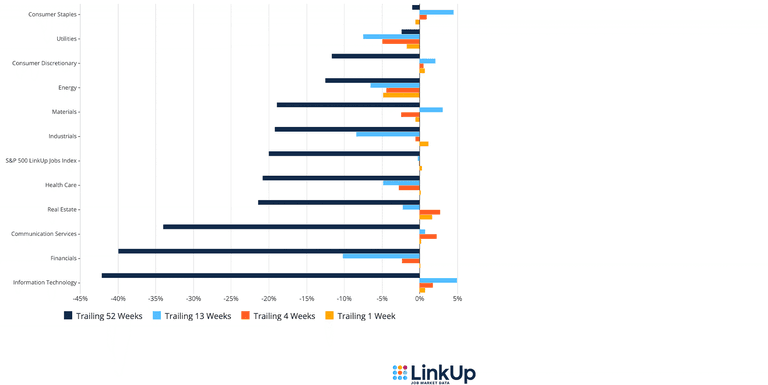 DATA DISCLAIMERS
LinkUp's monthly data recaps incorporate revisions to previously-reported monthly data with the purpose of reporting the most accurate and up-to-date data points. For more information on what circumstances may impact data revisions, visit our Data Support Center.
Insights

:
Related insights and resources