Clean Energy and the Job Market
With increasing investments into clean energy industries, economists predict 2-3 million energy supply jobs will be created by 2035. Read our full analysis.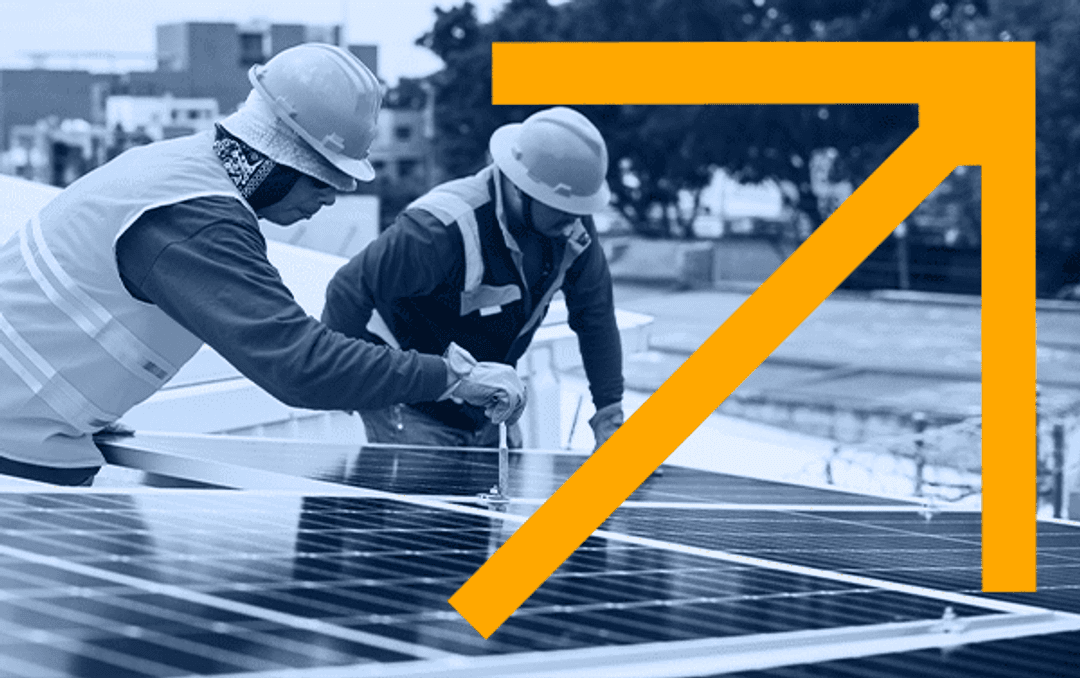 In Part Two of our Jobs 101 series, we looked at seven current key (job) market trends. One of those trends, environmental sustainability, has witnessed a significant influx of focus and investment in recent years.
A large chunk of this investment within the U.S. is thanks in part to the Inflation Reduction Act (IRA), the United States' largest climate change-addressing bill in history. The IRA has prompted companies across various sectors to change their decision-making and to take advantage of the incentives offered by the legislation, incentives that reward increased investment in clean energy projects. Princeton University's REPEAT Project (Rapid Energy Policy Evaluation and Analysis Toolkit), estimates that with current policies in place (i.e. not being curtailed by future administrations), the IRA and the Bipartisan Infrastructure Law will create between 1.4 and 1.7 million energy supply related jobs by 2030, and between 2.2 and 2.9 million energy supply related jobs by 2035.
Globally, renewables are projected to produce more electricity than coal by 2025, and around $1.7 trillion is "expected to be invested in technologies such as wind, solar power, electric vehicles and batteries globally this year, according to the I.E.A." Big companies across the economy are buying into clean energy. To name a few examples, Amazon has committed to buying 100,000 electric delivery vans from Rivian; the Postal Service, thanks to a $3 billion earmark in the IRA, is buying 66,000 electric postal trucks; and in July, seven automakers announced a joint venture to invest at least $1 billion to create 30,000 charging ports across the United States and Canada. The executive director of the International Energy Agency (I.E.A.), Fatih Birol, recently remarked that "Clean energy is moving faster than many people think, and it's become turbocharged lately."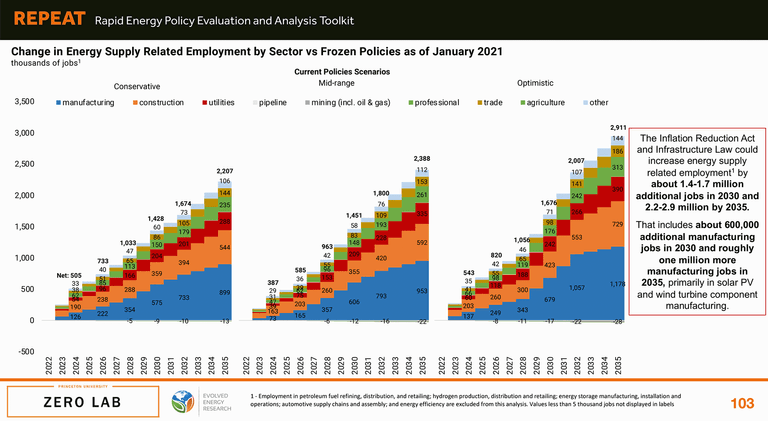 This influx of capital and clean energy initiatives have already produced a significant number of jobs, and will continue to do so as companies and governments allocate more and more resources to the green economy. Climate Power recently reported that since the IRA was passed in August 2022, over 272 new clean energy projects, creating 170,606 jobs, have been announced across 44 states.
With such a large number of clean energy projects underway across the country, there are many examples to choose from of green industries that are generating significant job opportunities. One industry that is critical to the EV (Electric Vehicle) revolution, and which has been helped along significantly by the IRA, is the United States' domestic supply of processed cathode material for battery manufacturing. Late last year, RedWood Materials Inc. announced a deal with Panasonic to supply Panasonic's battery plant in Kansas City with billions of dollars of domestically processed cathode material. Earlier this summer, Ascend, a Massachusetts-based company, agreed to a billion-dollar deal with an anonymous automaker to recycle batteries into cathode material. Ascend's CEO, Mike O'Kronley said, "When you step back and look at it, we haven't seen this level of investment in manufacturing in the United States in decades." (U.S. manufacturing's construction spending, at a $190 billion annual rate, is running at double the rate it was at around this time last year). O'Kronley said that the $480 million in matching grants from the Bipartisan Infrastructure law has been critical to Ascend's success and its manufacturing capabilities. Similarly, Redwood Materials Inc.'s CEO, J.B. Straubel, said that the Inflation Reduction Act helped propel Redwood along their trajectory, "like what happens if you attach a rocket engine to supersonic airplane [sic]." These new plants come with thousands of jobs, and are in what Redwood Materials and others have called the "Battery Belt", "a new manufacturing corridor from Michigan to Georgia... where hundreds of GWh a year of battery cell production capacity will be built and start operating between now and 2030."
Meanwhile, REPEAT predicts that over 1.5 million jobs will be generated in the solar energy sector by 2030, and around 250,000 jobs in wind power.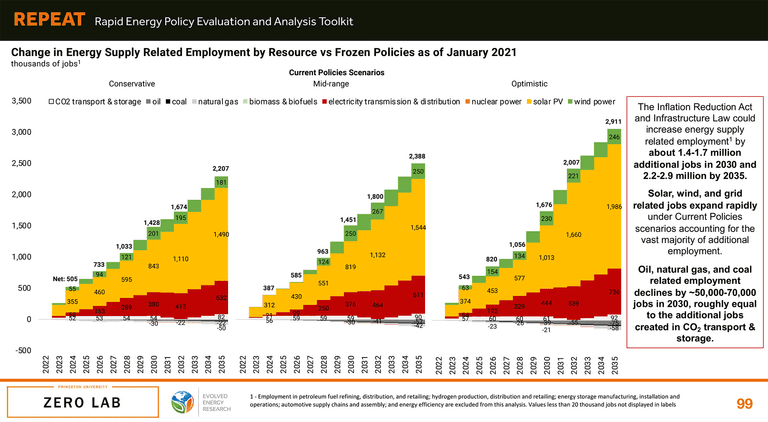 Source: REPEAT Project
As we continue as a society to respond to this climate moment, in what we hope will be a swift and efficacious manner, millions of green jobs will be created across a wide range of industries in the U.S. and global economies. It is clear that legislation like the IRA and the Bipartisan Infrastructure Law are vitally important to the degree to which different industries and companies, integral to the clean-energy transition, can promptly actualize their clean energy ambitions. With LinkUp's alternative job market data, we can see how employment opportunities are generated in particular sectors and regions as governments and companies address this moment with initiatives, projects, and investment.