LinkUp Forecasting Continuation of the Soft Landing With Above-Consensus Job Gains in July But Smaller Gains in August
Aug. 03, 2023
Source: LinkUp
Barring reckless impatience by the Fed, we expect (and hope) to continue traveling down this golden path as far as it takes us.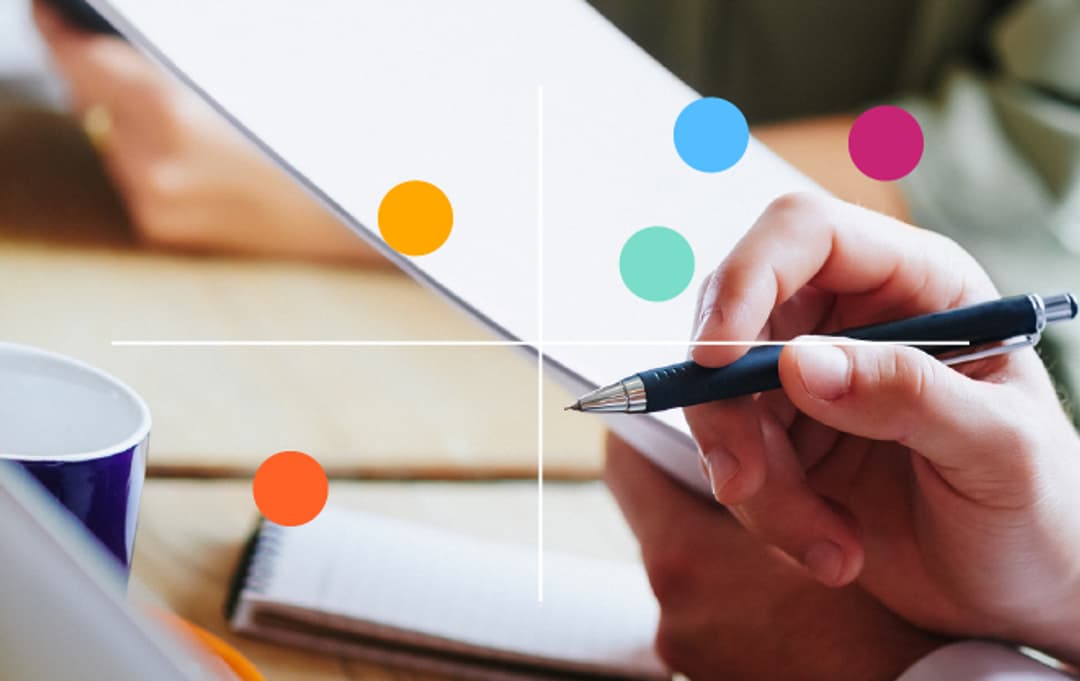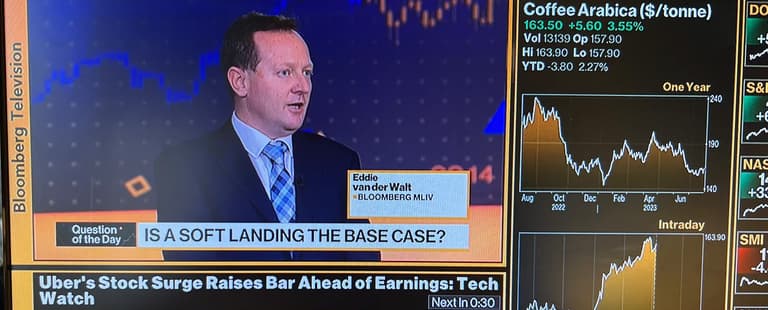 It's hard to imagine a 7-day stretch in which the job data could possibly have provided more convincing evidence of a soft landing and a job market in near-perfect balance than what we've seen since last week:
Job openings in June fell to 9.58M while quits dropped to 3.77M.
The rise in the Employment Cost Index (1%) was below expectations and lower than Q1 as June's YoY rate fell to 4.5%.
Unemployment claims dropped yet again.
And even with Q1's upward GDP revision, core PCE inflation slowed to 4.1% while the personal-consumption expenditures price index rose just 3% in June relative to the prior year (down from a 3.8% rise in May) - the lowest increase in two years.
And, of course, unemployment hasn't budged from record lows
We truly are, as Austin Goolsbee recently noted, strolling down a 'Golden Path.'
So to answer Bloomberg's Question of the Day (image above), the answer is an emphatic 'YES.' Of course, the long-dismissed, oft-derided soft landing has been our base case since we first saw this golden path come into view nearly a year ago. We even noted back in February that it might be the case that the plane had already landed.
But as we've also noted repeatedly, there is a material difference between landing gently and safely disembarking, unharmed, from the aircraft. The onus for that most critical step rests solely with the Fed and what they do with rates in the coming months. And unfortunately, clarity (and consensus) among members of the FOMC couldn't be less certain.
For whatever it's worth, with the guidance provided by our accurate, predictive, and real-time labor market data generated by hundreds of millions of job openings sourced every day directly from company websites around the world, we'd urge patience over the next two months and advise sitting tight in September.
Based on our June data, job growth will come in better than expected in July, but with the decline in job openings in July, we expect job growth in August to drop from July's levels.
Looking at our data for July, total job openings in the U.S. fell 2.1%, new openings dropped 8.0%, and job openings removed from company websites rose 5.5%.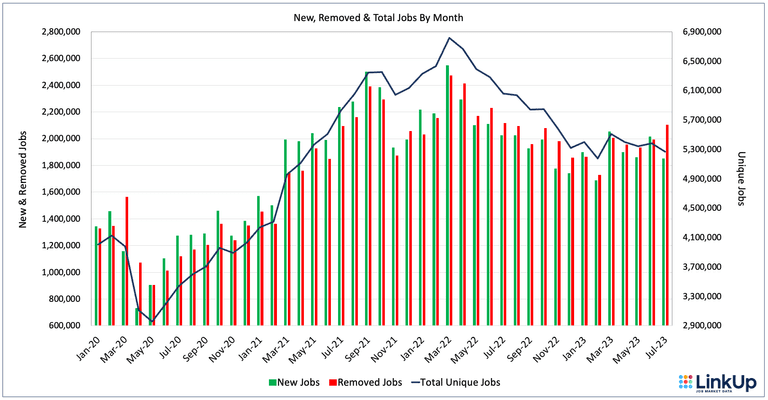 The LinkUp 10,000, which tracks U.S. job openings for the 10,000 global companies with the most openings in the U.S., fell 1.1%.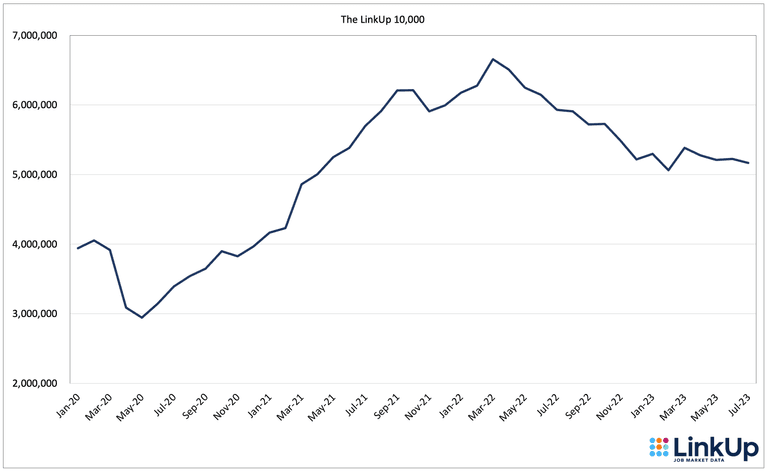 Job openings declined in both manufacturing and service industries.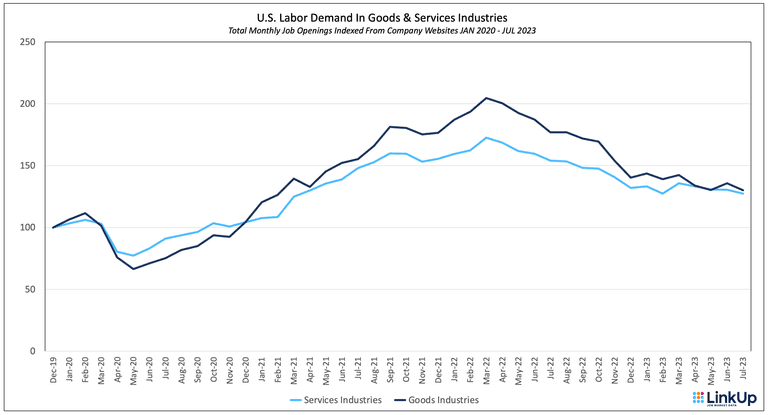 By industry, openings rose the most in Transportation and dropped the most in Utilities.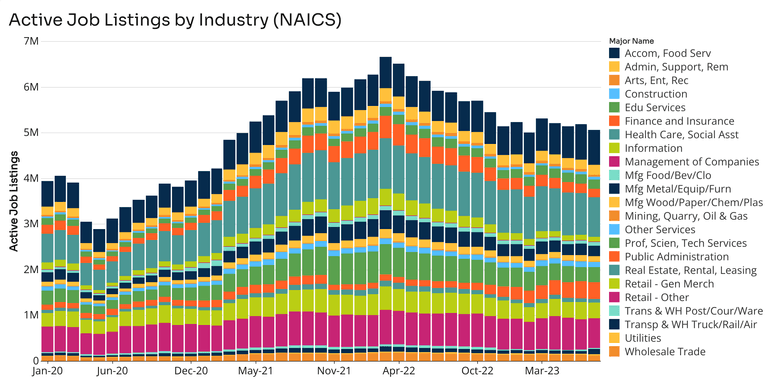 By occupation, openings rose only in Personal Care and Food Prep and dropped everywhere else with the steepest declines in Protective Services, Healthcare Support, and Architecture/Engineering.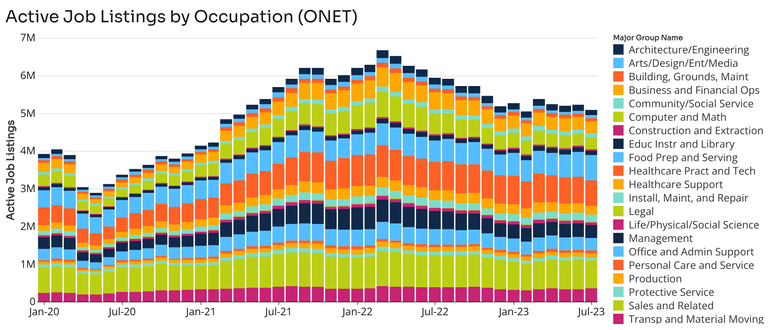 Across the country, job openings in July rose in just 8 states, dropping in 38 and staying flat in 4 others.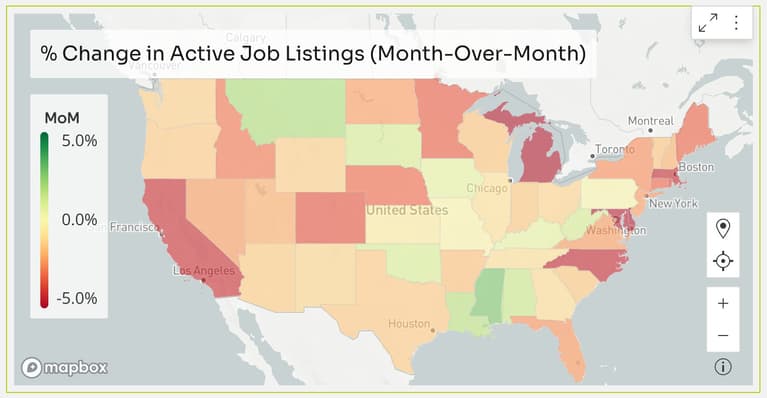 Across the entire economy, hiring velocity slowed to nearly 46 days, a sharp increase from 41 days in May and June.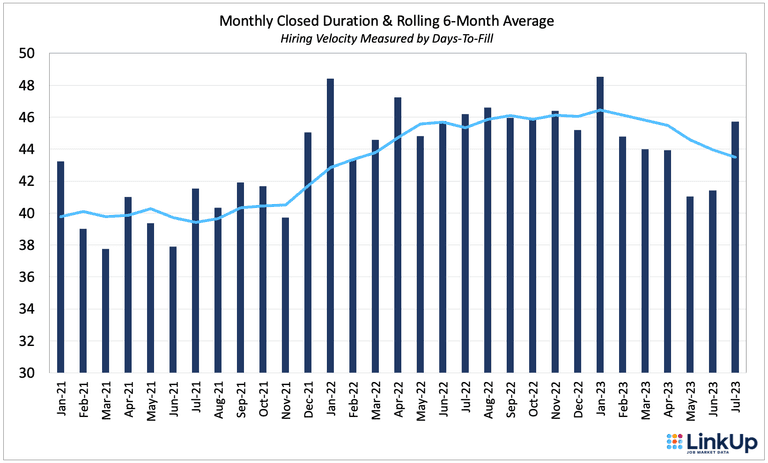 So based on job openings data for June, we are forecasting a net gain of 285,000 jobs in July, somewhat above the 200,000 consensus estimates.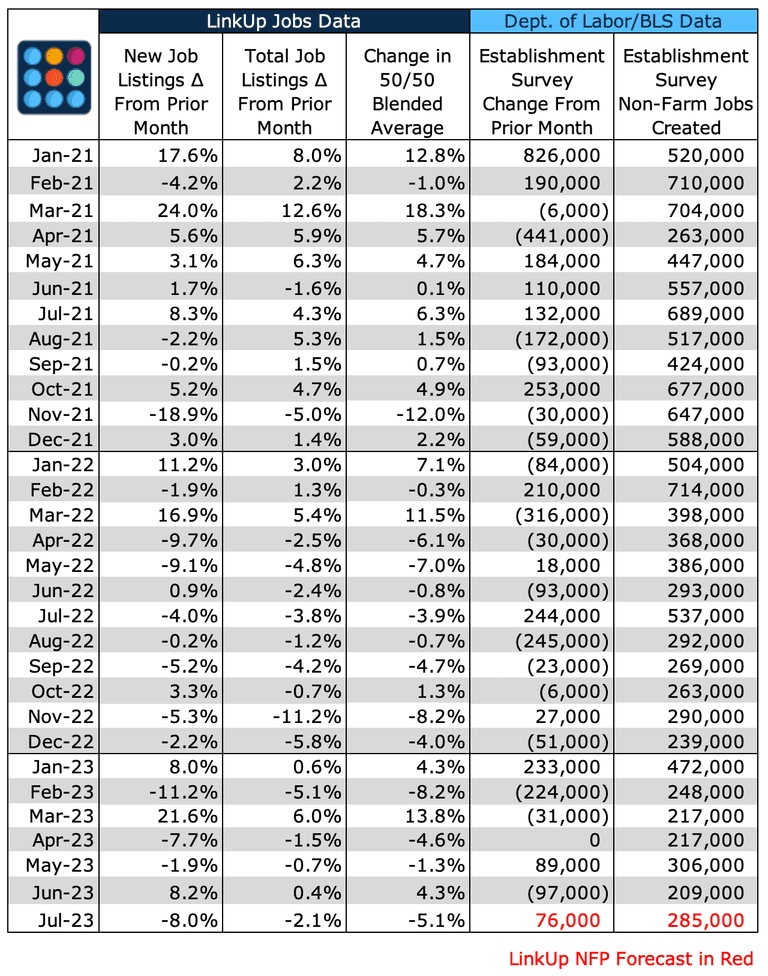 But as we mentioned previously, based on July's data, we expect that net job gains in August will drop from July's levels by at least 100,000 jobs. Going forward from there, through the remainder of the year and assuming the Fed doesn't steer us recklessly off course and smash the economy into a tree, we expect job gains to settle into a range of between 50,000 - 250,000 jobs per month, averaging roughly 150,000 per month through December.
We see no recession storm clouds anywhere on the horizon but no need to hike rates any further. Let's enjoy this golden path as far as it takes us.
Insights

:
Related insights and resources
Stay Informed

:
Get monthly job market insights delivered right to your inbox.
Thank you for your message!
The LinkUp team will be in touch shortly.