The 10 best (and 10 worst) cities for pandemic recovery potential
As the coronavirus continues to affect nearly every city in the U.S., many are struggling to envision what the road to recovery may look like.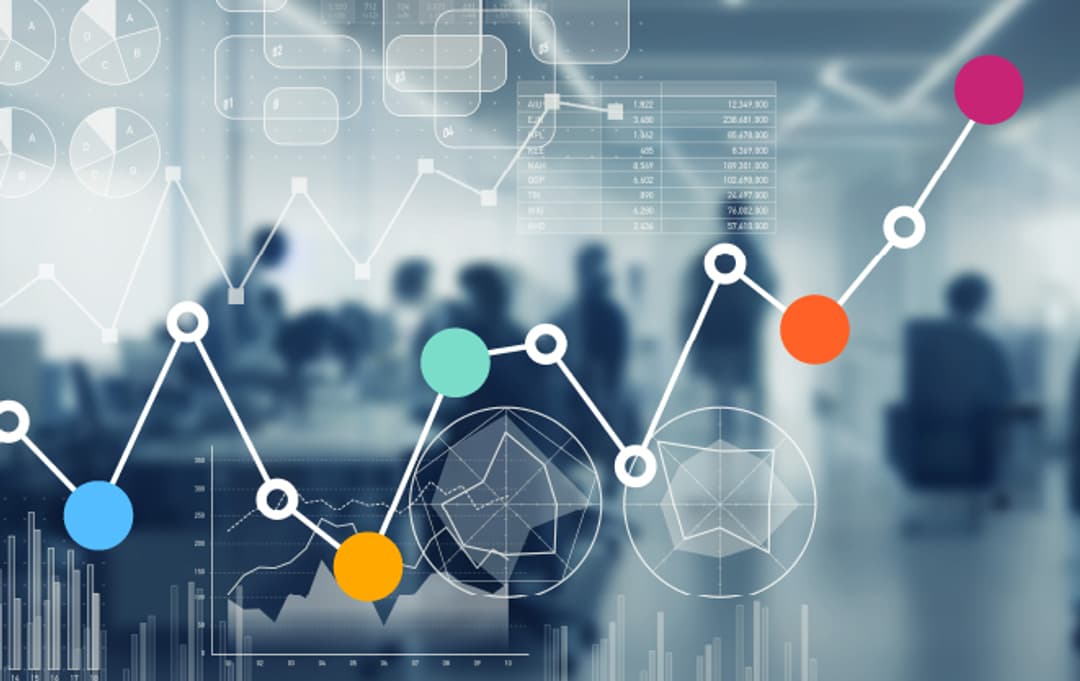 As the coronavirus continues to affect nearly every city in the U.S., many are struggling to envision what the road to recovery may look like. Moody's Analytics sought to provide clarity for that vision in a recent report. They examined the top 100 metro areas in the U.S. to identify the 10 cities best positioned to recover from the coronavirus, as well as the 10 worst. We then took a look at the cities Moody's highlighted to understand if our job data could add additional insights on prospects for economic recovery.
Moody's methodology for determining the ranking involved plotting cities' population density against shares of jobs that require degrees in order to assess economic standing. The economic research firm also looked at core-based statistical areas (CBSAs) and educational attainment to calculate regional exposure to the virus.
One interesting trend that emerged from the report is an increase in standing for several cities not traditionally considered "model cities." This illustrates the looming potential for a large-scale migration away from the country's biggest and densest metropolitan hubs toward more spacious, up-and-coming cities. "The most dynamic recoveries may well bypass traditional powerhouses and take place instead in areas that either were or were poised to lead the way in 2020 before everything changed," said Adam Kamins, senior regional economist at Moody's Analytics and the report's author.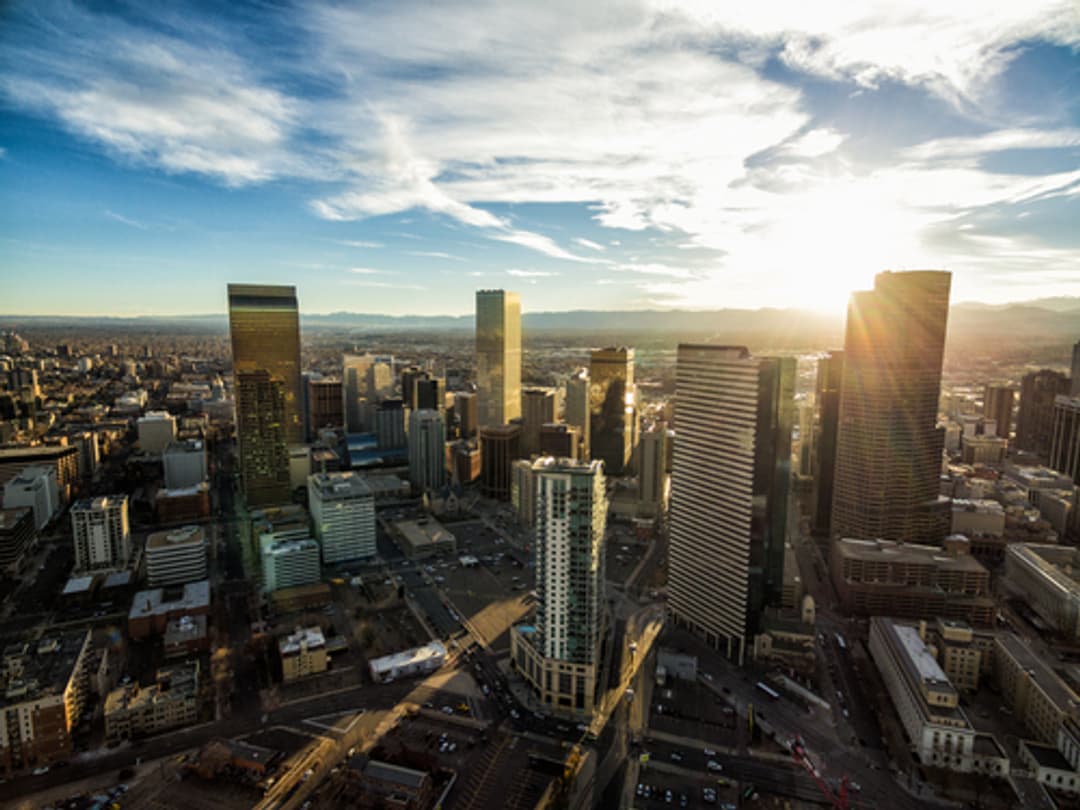 The top 10
First, the good news. In alphabetical (not rank) order, Moody's reports cite their top 10 as:
Boise, ID
Denver, CO
Durham, NC
Madison, WI
Provo, UT
Raleigh, NC
Salt Lake City
San Jose, CA
Tucson, AZ
Washington, DC​
Notable among the top cities are college towns with high education attainment rates such as Durham, NC and Madison, WI. As a densely packed urban hub, DC is a seemingly odd occurrence among the list of up-and-comers. But DC's highly educated workforce and even its architecture (the city has a longstanding height limit on buildings) explain its standing on the 'best positioned' list.
Several cities on the list were already experiencing substantial growth pre-COVID. Denver and Salt Lake City are among the fastest-growing metro areas in the U.S. A 2019 SmartAsset report named Raleigh, NC as one of the best cities for tech workers. And when it comes to the Silicon Valley tech economy, San Jose serves as a more spacious alternative to densely packed San Francisco.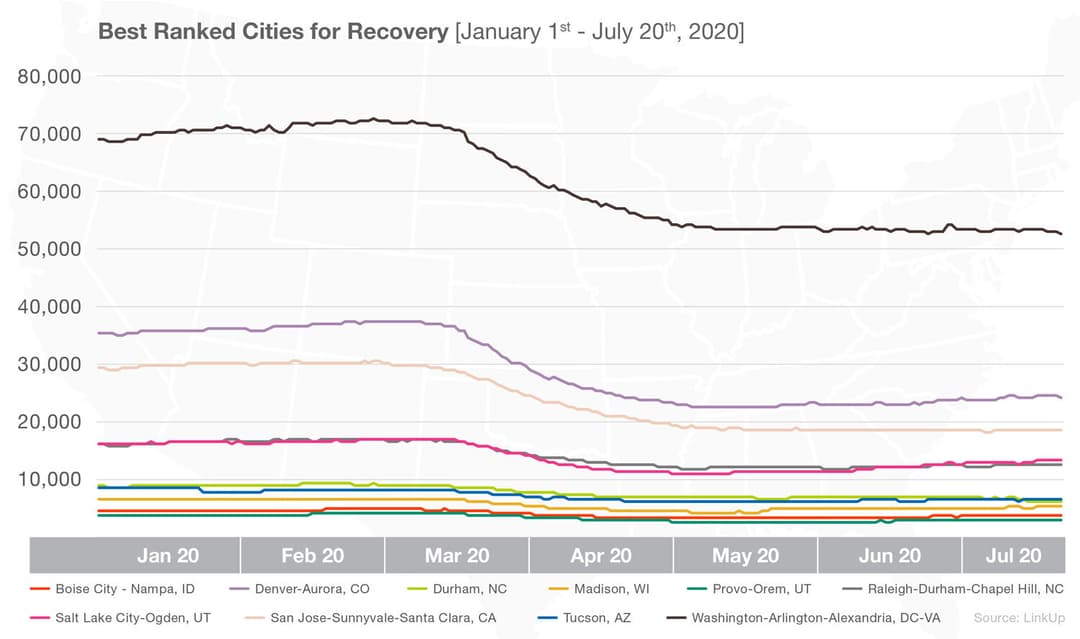 To shed additional light on Moody's analysis, LinkUp examined our job data in the top 10 cities. Averaging the change in unique active job listings since June 1, it's notable that the top 10 cities for recovery only saw a 4% increase in jobs. Looking at the data from July 1st on, we see a 0% increase on average. So while we are seeing some rebound in jobs numbers in these cities, we aren't yet seeing a consistent upward trajectory.
The bottom 10
Looking at the bottom of the list, we see an equally interesting spread. In alphabetical order, the cities worst positioned for recovery are:
Detroit; MI
Honolulu, HI
Los Angeles, CA
McAllen, TX
Miami, FL
New Haven, CT
New York City, NY
Philadelphia, PA
Stockton, CA
Tampa, FL
The Northeast is heavily represented on this list, due to an outsize share of residents living in large urban centers. Even with a highly-educated workforce, these population density issues are expected to cause significant difficulty in recovery.

Population density also plays a role in McAllen, Texas and Stockton, California. In addition to lack of space, these areas grapple with poverty and low degrees of educational attainment.
Looking at New York City in particular, there is a large, skilled workforce; however it still holds the designation of the country's single-most economically exposed area. Activities intrinsic to city life for residents or tourists (and vital to the city's economy) like riding the subway, dining in crowded restaurants, and attending Broadway shows or museums carry with them a high level of risk. Honolulu is another city whose recovery chances are significantly hampered by a loss of tourism.
Looking at LinkUp job data, we see that since June 1, the 10 worst cities for recovery saw a 5% increase, 1% higher than the top 10 cities. Starting on July 1st, we observe a 2% increase on average.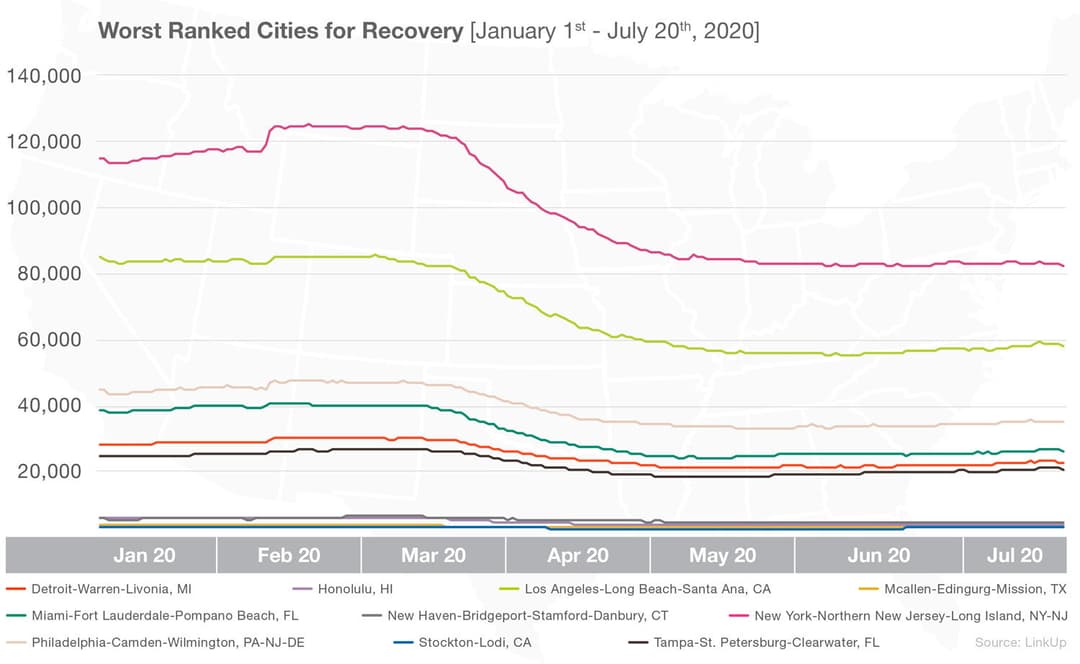 It is striking that, currently, our analysis shows similar figures for the cities on the top and bottom of the list, with the bottom 10 cities demonstrating a slightly higher increase in job listings since June.
As we examine how much the job listings have changed on average, we find that both the top 10 and the bottom 10 cities are down nearly the same amount since Jan 1 (-27% and -26% respectively); a strong signal that while some cities are poised for recovery, that recovery has not yet begun. We will continue to follow these 20 cities to see how they fare in the coming months, to see whether the hypothesis of who will climb out easier is correct.
Interested in the data behind this post? Contact us to learn more about LinkUp job market data.
Insights

:
Related insights and resources
Stay Informed

:
Get monthly job market insights delivered right to your inbox.
Thank you for your message!
The LinkUp team will be in touch shortly.