LinkUp X Exabel

Deep, data-driven insights
for investors — with no coding required.
About LinkUp Insights Platform
Powered by Exabel
A streamlined, web-based portal powered by Exabel lets users access, visualize and compare LinkUp's job market data without writing code. The predictive power of job market data is more accessible than ever before.

Investors often find the cost and complexity of modeling data in-house a prohibitive burden. Exabel allows active managers to benefit from alternative data immediately to supplement fundamental strategies.
---
Features

:
Data-driven decision-making
Job market data is at your fingertips with LinkUp Insights Powered by Exabel (with no code needed). Actionable insights for investors through critical, early clues into companies' business conditions and insights are now available through Exabel's easy-to-use platform.

01

Employment trends identification

02

Time-tracked company hiring data comparison

03

Key performance indicators identification

04

Streamlined, web-based portal

05

Intuitive, interactive dashboards

06

No code or warehouse needed
Exabel is an analytics platform for investment professionals who want to benefit from alternative data and modern data science tools in their investment process. It fulfills a growing need in financial markets: while use of data — including fundamental, market, proprietary and alternative data — is critical for asset managers, modeling such data in-house has become an excessive use of time and resources for all but the very largest investment firms. Exabel's SaaS-delivered platform enables discretionary managers to complement their fundamental strategies with more data-driven techniques. It allows investment teams to benefit from alternative data immediately.
With critical, early clues into companies'
business conditions, LinkUp job market data provides
actionable insights for investors.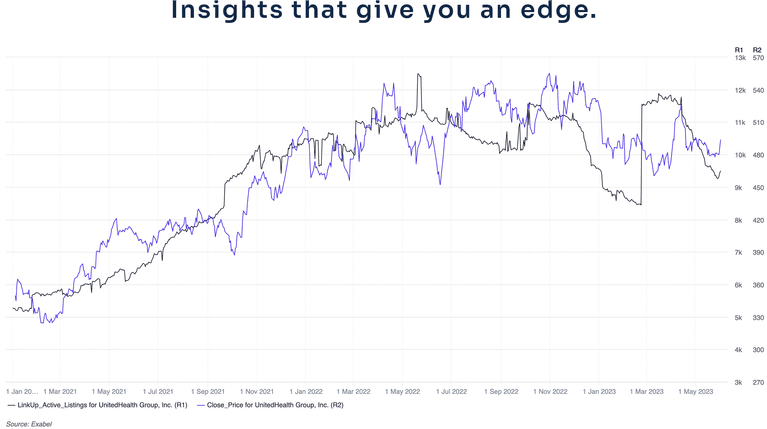 What people are saying about LinkUp x Exabel
Request a demo

:
Discover what our global job market data can do for you.