Roku Layoffs: Analyzing Workforce Trends
Roku recently laid off 10% of their workforce for cost management and to steer the company toward sustained profitability. Additionally, we examine industry trends within the streaming industry
In a recent strategic move to navigate the challenging economic landscape, Roku has made headlines by announcing a significant reduction of its workforce, slashing it by 10%. This calculated decision aims to bolster cost management efforts and steer the company toward a path of sustained profitability.
LinkUp job data shows a large drawdown in active listings on Roku's careers page starting in June 2023 and then again over the last few weeks in July 2023.

Roku mentioned they would limit new hiring. Based on listings over the past 6 months, it appears they are shifting focus. The majority of their current job listings are Computer & Mathematics roles and they have very few new Sales roles.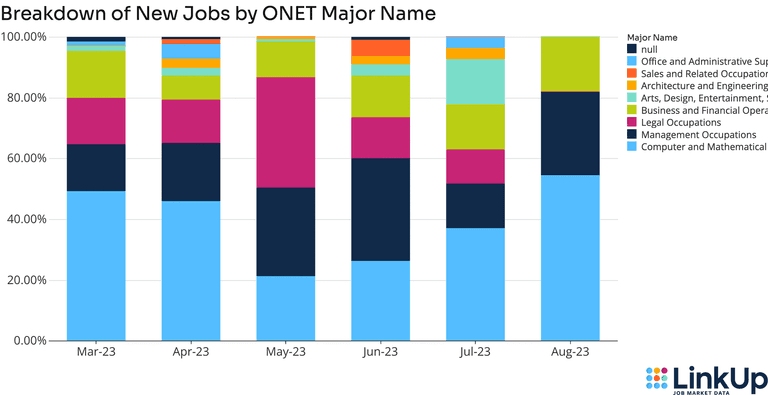 A Broader Industry Perspective
While it's unfortunate news for those laid off at Roku, it could be a sign of market consolidation in the streaming industry. Job listings that contain the term 'Apple TV' have also been on a steady decline over the last 15 months which provides some context within the broader landscape.


Explore the Data Further

At LinkUp, we believe that understanding labor market data is crucial for making informed decisions in an ever-evolving business environment. If you're intrigued by these insights or wish to delve deeper into the data behind workforce trends, we invite you to reach out to us. Let's explore how our data-driven solutions can empower your organization to navigate the complexities of the job market successfully.

Insights

:
Related insights and resources
Part 3 | 2023 Job Market Insights: Exploring Job Listing and Layoff Patterns

Read full article
Stay Informed

:
Get monthly job market insights delivered right to your inbox.
Thank you for your message!
The LinkUp team will be in touch shortly.