LinkUp's August Job Openings Data Provides Further Evidence That The U.S. Job Market Is In Perfect Equilibrium
Sep. 05, 2023
Source: LinkUp
Sharp rise in new job openings in the U.S. sourced directly from company websites globally point to solid job growth in September.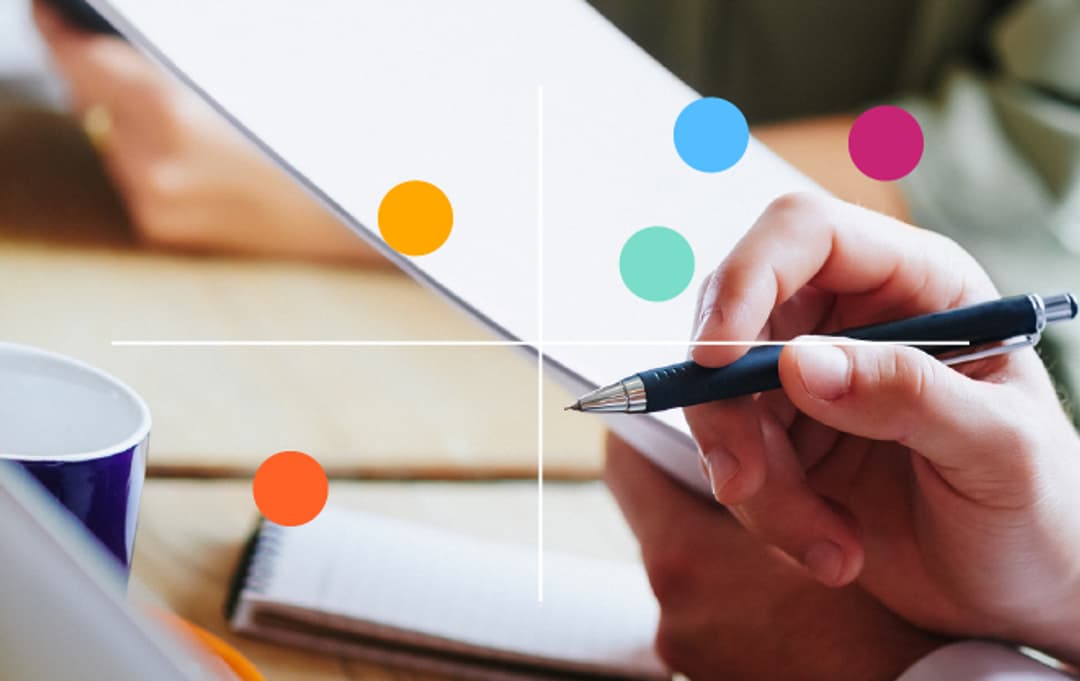 As we indicated last week regarding our job market data sourced directly and entirely from company websites around the world, we don't get our monthly data until the morning after the month ends, so for last week's non-farm payroll forecast, we only had partial information for August.
As we noted, however, our forecast model uses data from either the month being forecasted or the prior month depending on hiring velocity across the U.S. economy - a metric we calculate using our 'Closed Duration' metric which measures how long openings are posted on employer websites before they are taken down once the position has been filled with a new hire.
For August's NFP forecast, we based our forecast (a net gain of 90,000 jobs) on July's LinkUp data due to the slowdown in hiring velocity over the past few months. So it's unlikely our forecast would have changed even if we had had August data given that hiring velocity slowed down yet again last month.
But even though the August BLS jobs report came in above slightly above consensus estimates, our cumulative track record since January 2022 remains stellar - less than 1% off from Revised BLS data.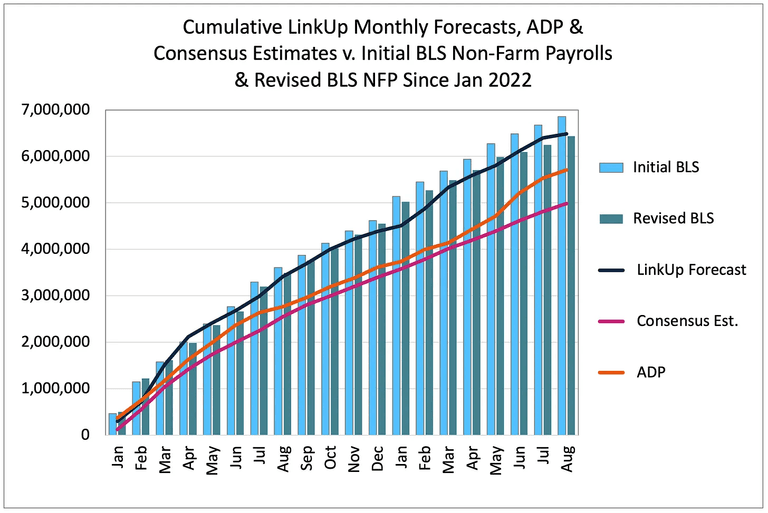 And given that BLS has revised its jobs numbers downward for each of the past 8 months, it's more than likely that our August forecast will look better after the 30 and 60 day revisions.
For the CES Preliminary adjustment in the table below, we divided the preliminary estimate of -306,000 jobs by 12 and applied the ~25,000 job downward revision to January, February, and March of this year as the adjustment applies for the months between March 2022 and March 2023.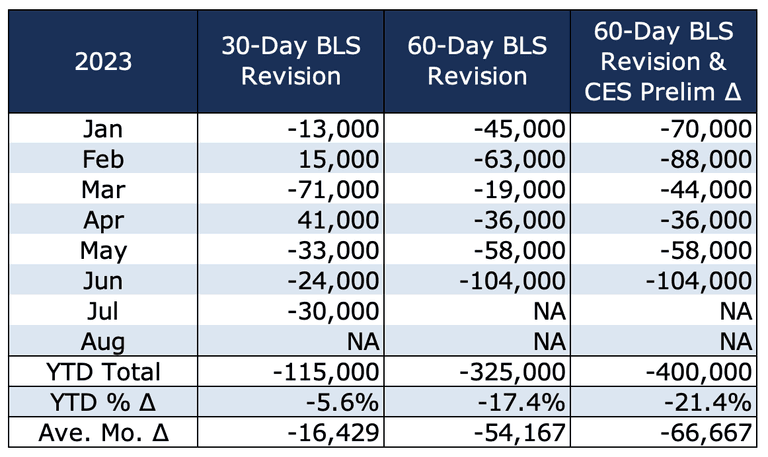 As we also indicated in our post last week, we want to publish our regular monthly data for August here (below), and we'll publish another post later this week with our perspective on the job market these days.
The short (really short) version of that commentary is that the job market is in essentially perfect equilibrium between supply and demand (as it has been for most of the year). As a result, we expect it to remain resilient with steady, very solid monthly job gains averaging roughly 100,000-150,000 jobs per month (approximately what's needed to absorb population growth) for the foreseeable future.
That perspective was further confirmed by a solid uptick in job openings across the U.S. in August. Total job openings rose 3% to 5.5 million, while new and removed openings rose 14% and 23% respectively.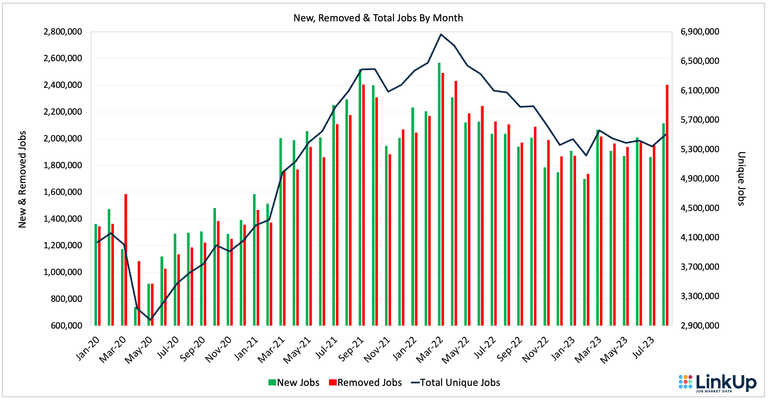 The LinkUp 10,000 which tracks aggregate job openings from the 10,000 global employers with the most job openings in the U.S. also rose 3% in August.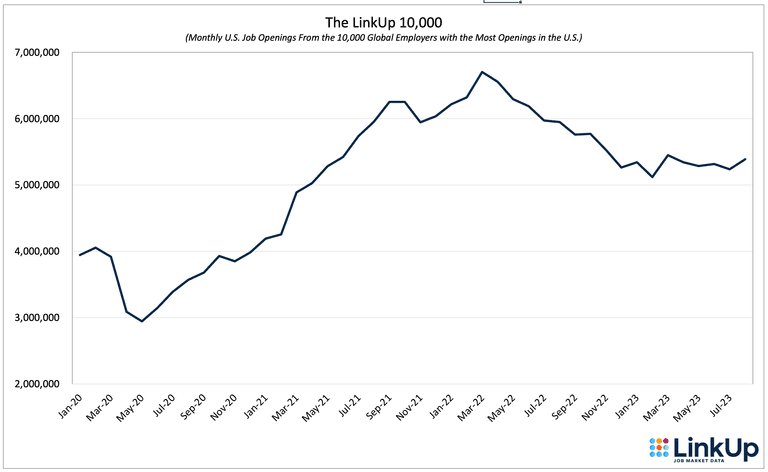 Job openings rose throughout the entire country with slightly stronger growth in the Northwest and Northeast.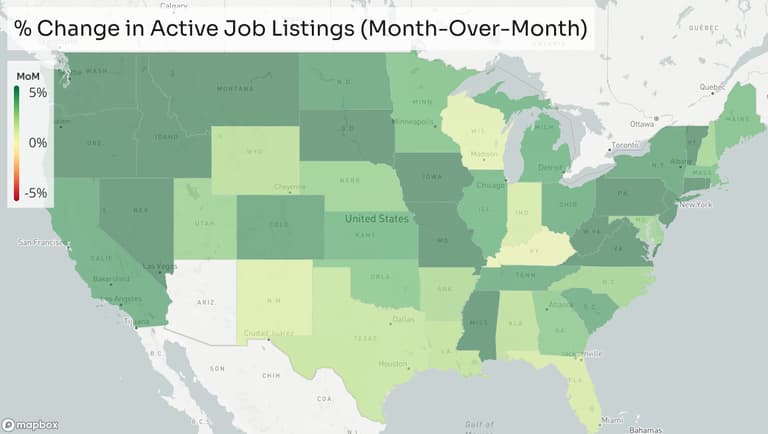 Hiring velocity slowed down a bit as the average number of days for jobs removed from company websites rose from 44 days in July to 46 days in August. The long-term average for Closed Duration is 45 days, so 46 days isn't overly material and not surprising given the sharp rise in Jobs Removed during the month.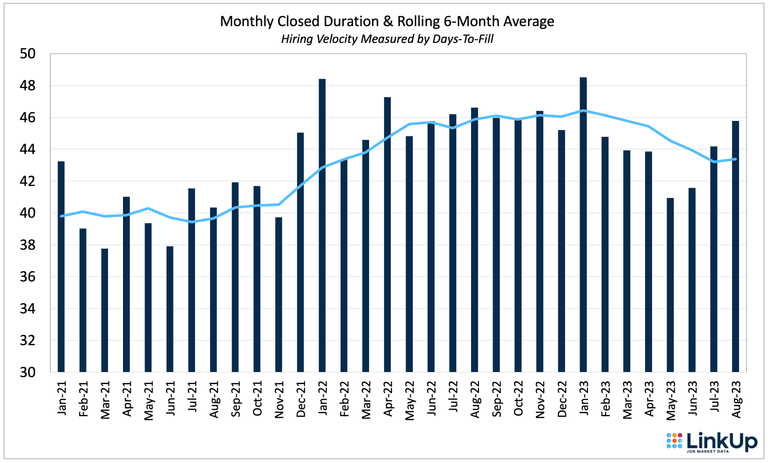 Based on LinkUp's data for August, we expect to see another month of solid job growth in September and as previously mentioned, we'll publish another post with some commentary on the job market later this week.
Insights

:
Related insights and resources
LinkUp Forecasting Gain of Only 90,000 Jobs In August As Job Market Continues to Gradually Cool Off

Read full article
Stay Informed

:
Get monthly job market insights delivered right to your inbox.
Thank you for your message!
The LinkUp team will be in touch shortly.