November 2021 Jobs Recap: a substantial slowdown with far fewer job listings
As we near the end of another tumultuous year, we are seeing a substantial slowdown with far fewer jobs being posted.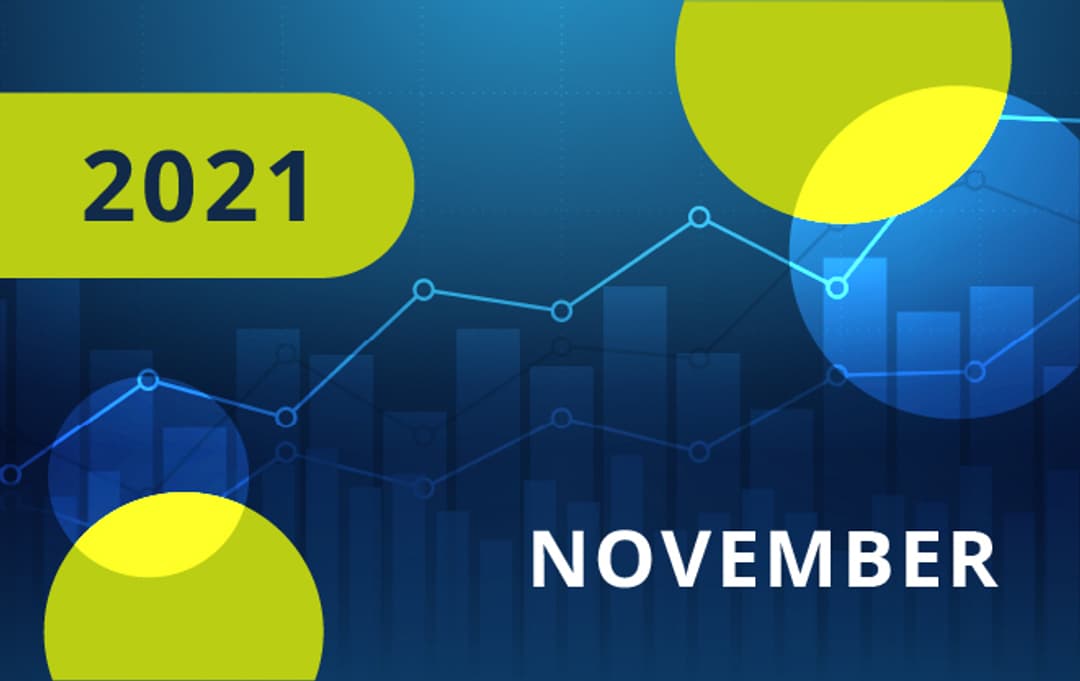 This flagging pace could perhaps be attributed to a fresh wave of COVID concerns, as questions about the impact of the new omicron variant still loom large, as well as worries about new federal policy. While this slowdown may seem concerning at first, we often observe similar patterns around November and December, normally followed by an upward jump in January.
While jobs in November were up 52.7% over November 2020, the monthly job count was down -6.3%. This is the second consecutive month of decline, after jobs dropped 1.1% last month. Looking back, we see the last time job listings declined this much in a month was near the onset of the pandemic (March 2020 jobs were down -5.16%; in April 2020 jobs sank -22.50%; and then May 2020 at -5.68%).
However, the average change in the past four years in November is -5.5%, so though job listings are certainly declining faster than average, the picture isn't quite so dramatic when compared to normal seasonal trends.

How the labor shortage is feeling and dealing
November saw the unemployment rate fall from 0.4% to 4.2%. This continues to play out in the disconnect between that massive number of people looking for work and the employers claiming they are not able to find the workers needed to fill jobs. We've talked at length about the massive bid-ask-spread between employers and employees essentially locking up the job market, and it seems the resulting labor shortage shows no sign of abating. In order for it to do so, hiring goals will need to change, retention rates will need to increase and employers will have to find a way to better address the needs of existing and potential employees. Questions about whether unions can help solve these issues loom large. Wherever you come down on that issue, there's no denying there are critical lessons to be garnered from a model that ensures workers have a voice, since now so many are talking by simply walking away.

Jobs by sector
When we zoom in on the data, we see that 100% of industries saw job listings decrease in November. Sectors with the highest decline in jobs for the month were Utilities (-9.7%), Transportation and Warehousing (-9.6%), and Retail Trade (-9.1%). And since there was no growth to speak of, the sector with the least decline was Accommodation and Food Services, down only -1.8%, giving the first signs that hiring may be turning around in the sector.
We took a look at the S&P 500 LinkUp Jobs Index to see how each sector has changed throughout the year. Labor demand in Technology and Materials has far outpaced all other sectors, yet like all sectors, job listings were down last month (-4.0%).
↘ To receive LinkUp Jobs Data Recap emails with monthly job market insights like this in your inbox, subscribe here.
Insights

:
Related insights and resources
Stay Informed

:
Get monthly job market insights delivered right to your inbox.
Thank you for your message!
The LinkUp team will be in touch shortly.