LinkUp Forecasting Net Gain of 105,000 Jobs in September - Below Consensus Estimates
Oct. 03, 2023
Source: Toby Dayton, LinkUp CEO
Job Market Continues to Cool Off as Labor Demand and Hiring Slow Down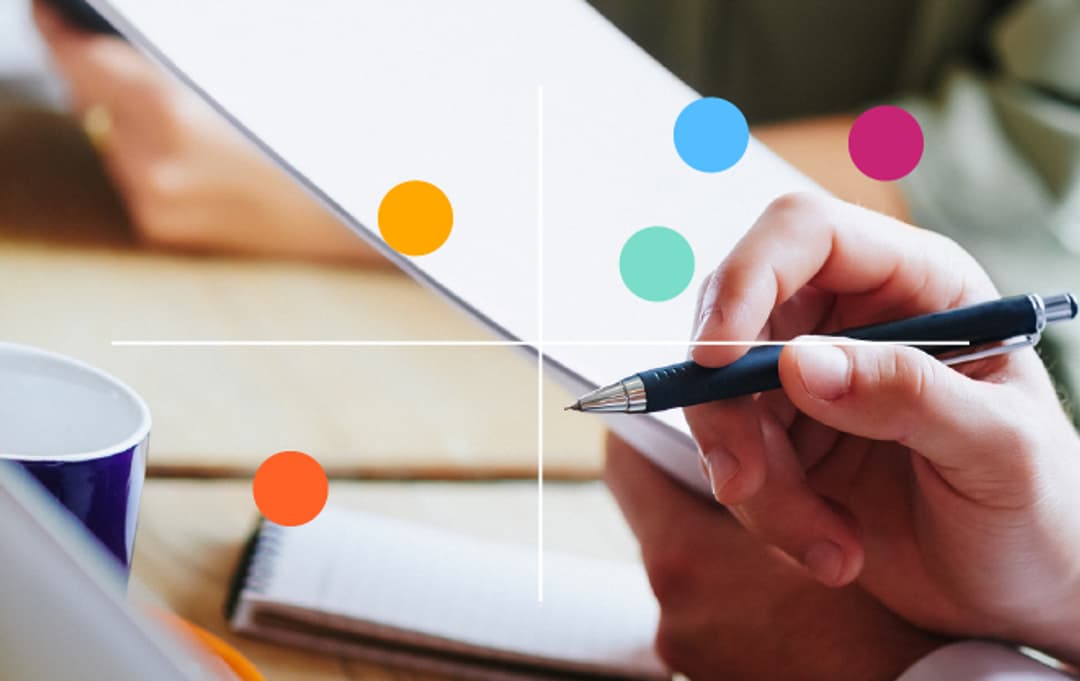 With last week's commentary on the job market, we'll jump straight into LinkUp's labor demand data and our resulting non-farm payroll (NFP) forecast for September and provide some additional commentary in the next few weeks.
In September, job openings in the U.S. indexed directly from company websites globally fell 5%, and new and removed openings dropped 8% and 3% respectively.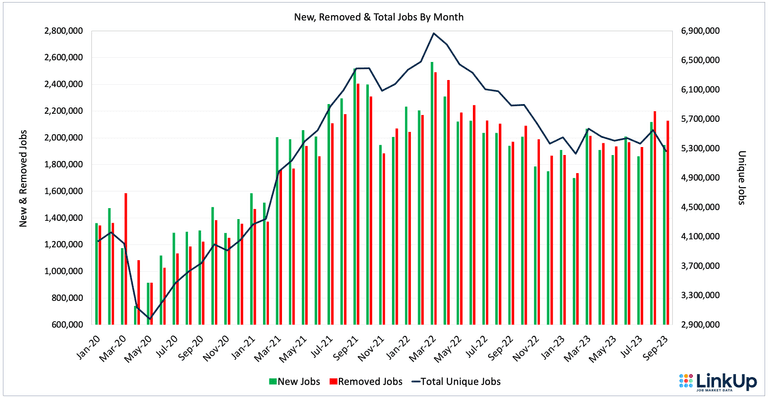 The LinkUp 10,000, which measures the total number of U.S. openings from the 10,000 global employers with the most job openings in the U.S., fell 4% in September.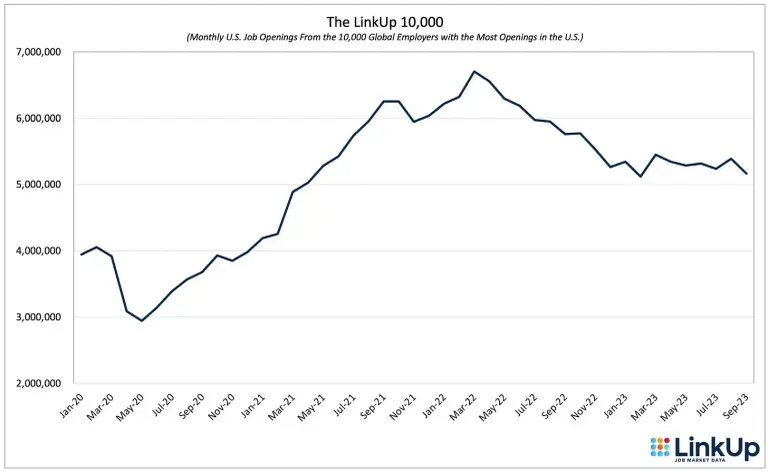 The decline in active job openings was widely distributed throughout the country.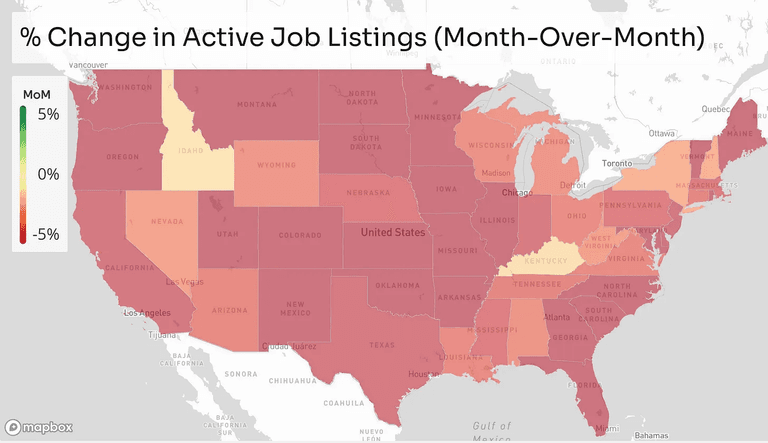 Likewise, job openings declined in all but 4 industries, with the largest percentage drops in Retail, Transportation (Truck/Rail/Air), Real Estate, and Finance. The only sectors seeing increases were Other Services, Transportation (Post/Courier/Warehouse), and Manufacturing (Wood/Paper/Chemical/Plastic).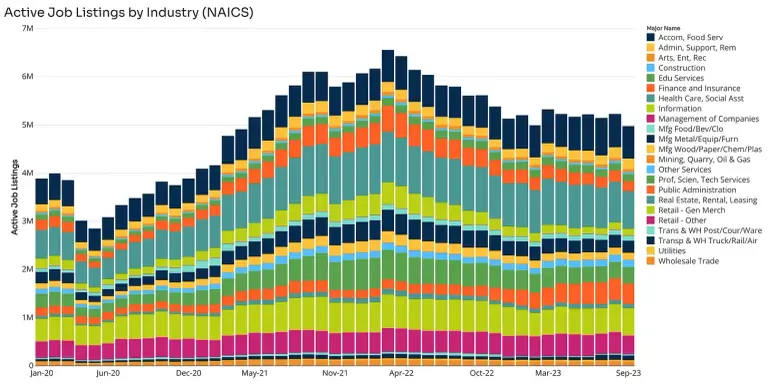 Job declines were seen in both Goods and Services industries.

Job openings declined in every single Occupation category except Personal Care & Service (up 14%) and Life, Physical, Social Science (up 2%). The largest declines were seen in Education, Installation, Maintenance & Repair, and Social Services.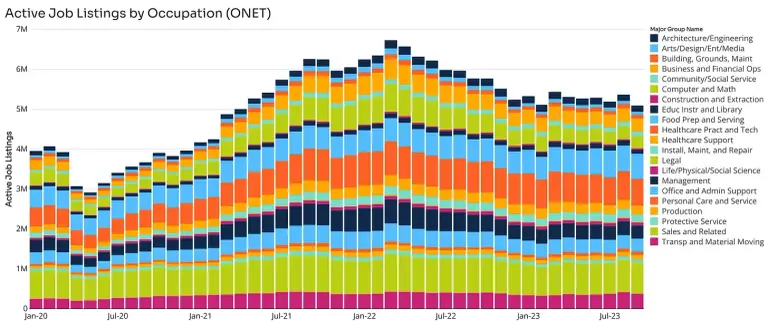 Job Duration, which essentially tracks hiring velocity by measuring the average number of days that openings are listed on company websites, dropped slight in September.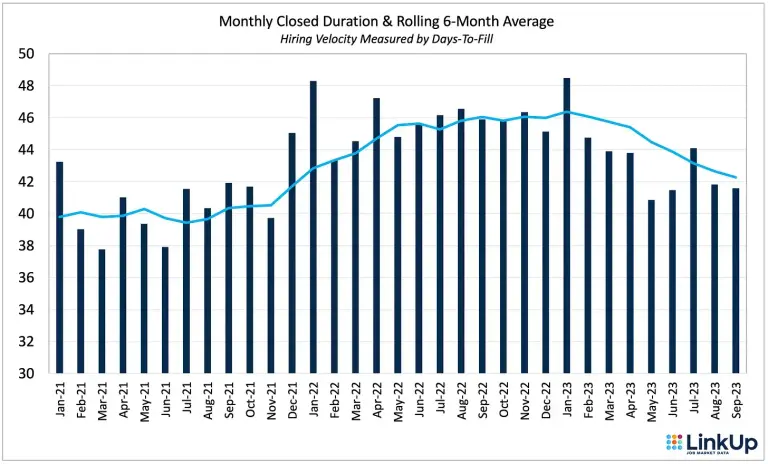 Based on our data for September, we are forecasting a net gain of just 105,000 jobs in the U.S. in September, quite a bit below consensus estimates of 170,000.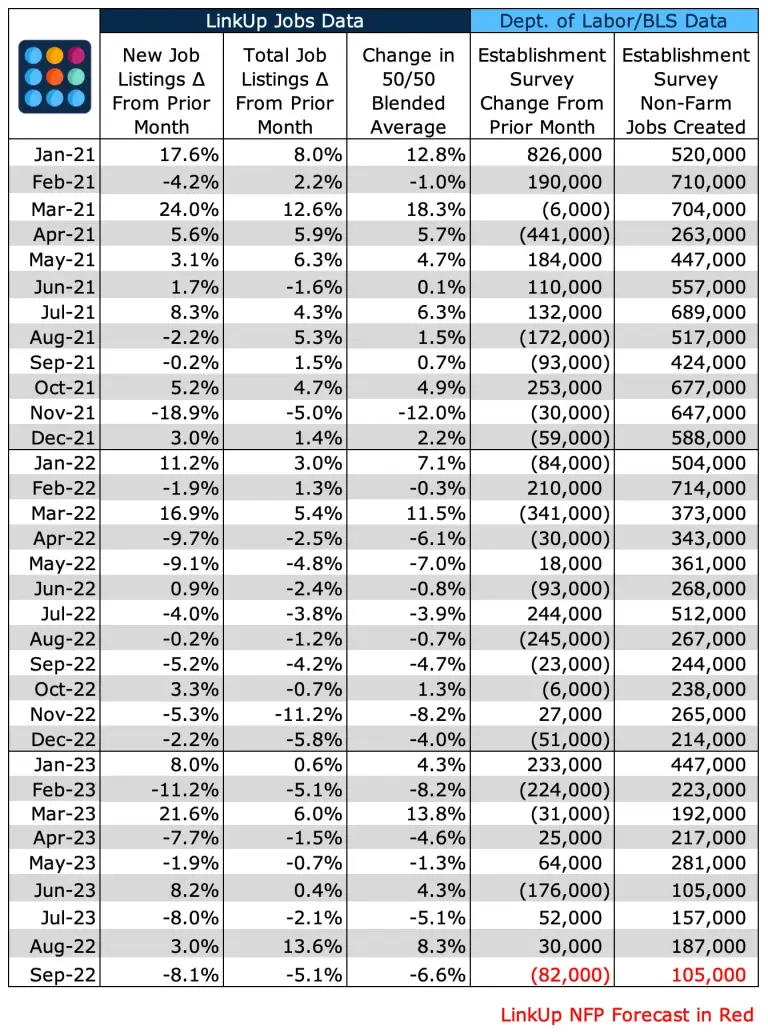 As mentioned at the outset, we'll publish some commentary about the broader job market, the soft landing, and the general state of the economy over the next few weeks.
Insights

:
Related insights and resources
LinkUp's August Job Openings Data Provides Further Evidence That The U.S. Job Market Is In Perfect Equilibrium

Read full article

LinkUp Forecasting Gain of Only 90,000 Jobs In August As Job Market Continues to Gradually Cool Off

Read full article
Stay Informed

:
Get monthly job market insights delivered right to your inbox.
Thank you for your message!
The LinkUp team will be in touch shortly.