March 2023 Jobs Recap: Labor demand rises across the market
LinkUp data shows new job listings grew significantly in March as well.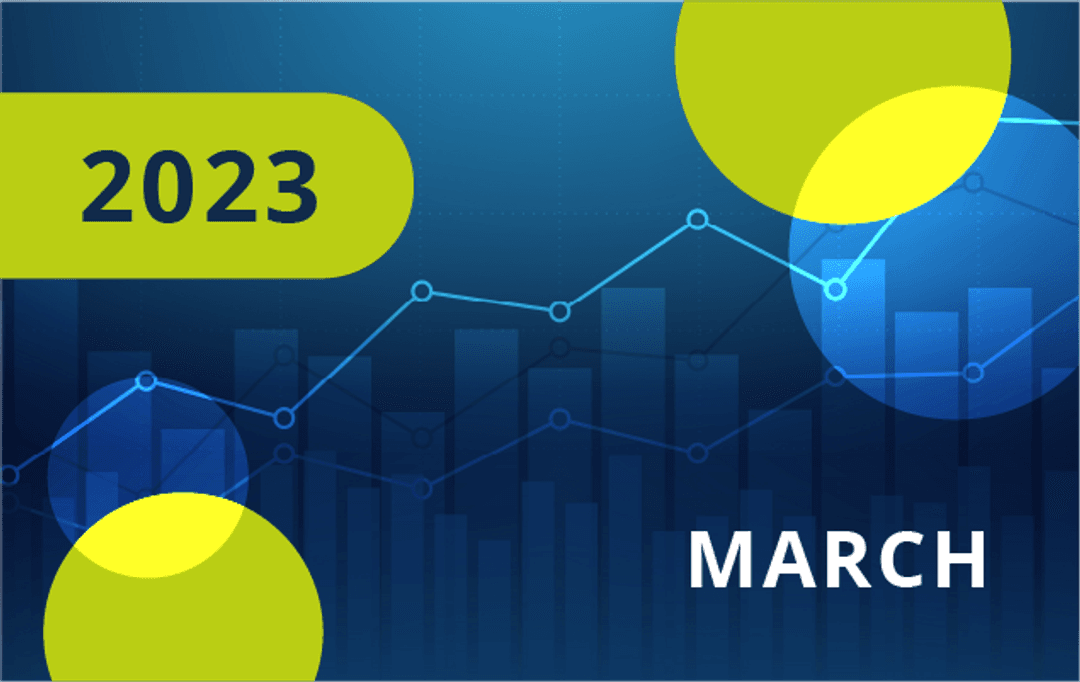 After February's slight decrease (5.1%) in active job listings, last month marked a possible return to market equilibrium as active listings, indexed directly from company websites, grew 6.0% through March.
LinkUp job data shows new job listings grew significantly in March as well, jumping 21.6% and contrasting the large decline observed in February. Considering that the layoffs seen over the early months of 2023 have only slashed 8% of pandemic-related headcount growth, increases in listing volume in March may not be a market anomaly moving forward.
Removed job listings also grew significantly, increasing 21.7% over the same period. While a larger change than previous years, this significant leap upwards is consistent with March trends observed in LinkUp's data last year. In 2022, March experienced the highest growth in new (17.2%) and removed (15.1%) listings of the entire year.
CLOSED DURATION
Closed duration, or the average number of days job listings are posted on company websites before they are removed, tracks hiring velocity across the entire U.S. economy. As the average number of days a job listing remains live increases, hiring velocity slows.
Listings removed in March remained open for an average of 46 days – 2.2% longer than the 45-day average of listings removed in February. This decrease in hiring velocity follows a brief increase in labor demand but has not risen to the slowest velocity observed yet this year in January (average of 49 days).
JOBS DATA BY STATE
Nearly all states experienced growing labor demand throughout March. The states experiencing the largest increases in job listings include Rhode Island (17.2%), Arkansas (11.5%), Idaho (11.3%), Mississippi (10.2%), and Philadelphia (10.0%).
South Dakota was the only state to experience a decline in listings – a decrease of just 2.0%.
JOBS DATA BY INDUSTRY (NAICS)
All industries experienced growth in job listings except for the Manufacturing (Wood, Paper, Chemicals, and Plastics) industry, which experienced a net 0 change in labor demand month-over-month.
Of the industries which saw increases in labor demand, Other Services (18.1%), the Wholesale Trade industry (11.7%), and the Public Administration industry (10.8%) experienced the greatest growth through March.
JOBS DATA BY OCCUPATION (O*NET)
Following U.S. macro-level labor trends, 100% of occupations experienced increases in labor demand. This growth was concentrated within the Personal Care and Service occupational category, which saw a 26.3% increase in listings through March.
In contrast, Computer and Mathematical (0.1%), Life, Physical, and Social Science (1.2%), and Architecture and Engineering (2.7%) occupations experienced the smallest growth month-over-month.
LINKUP 10,000
The LinkUp 10,000 is an analytic published daily and monthly that captures the total U.S. job openings from 10,000 global employers in LinkUp's jobs dataset with the most U.S. job openings.
In step with observed U.S. labor market activity, the LinkUp 10,000 – tracking U.S. job vacancies for the 10,000 global employers with the most openings in the U.S. – rose 5.9% in March.
S&P 500 LINKUP JOBS INDEX
The S&P 500 LinkUp Jobs Index is designed to measure open jobs posted by the companies in the S&P 500 and is published on the S&P website. It can be viewed in aggregate or by sector.
In slight contrast to macro trends, the S&P 500 LinkUp Jobs Index shows listings were down just 0.3% month-over-month overall with declines across all sectors except for Consumer Discretionary (1.9%).
Of sectors experiencing the largest drops in labor demand, Information Technology (-7.2%), Communication Services (-4.0%), and Materials (-3.1%) take the lead.
DATA DISCLAIMERS
LinkUp's monthly data recaps incorporate revisions to previously-reported monthly data with the purpose of reporting the most accurate and up-to-date data points. For more information on what circumstances may impact data revisions, visit our Data Support Center.

JOIN US AT THESE UPCOMING EVENTS
Unleash America | The International Festival of HR
Las Vegas, NV
April 26-27, 2023
RAVENPACK: A NOVEL APPROACH TO MEASURING TECH ADOPTION
With new tech advances and tools released almost daily, it's crucial for employers to leverage these technologies to drive growth. Using our robust database of hundreds of millions of job listings to quantify tech adoption in hiring, researchers at RavenPack found that companies consistently hiring individuals with novel technology skills outperformed their peers from an investment perspective.
AVAILABLE FOR SUBSCRIPTION: U.S. MACRO DATA
The LinkUp U.S. Macro Data Package is a collection of weekly and monthly curated job reports containing timely, accurate, and predictive data. The reports provide deeper insights into the job market—from a high level all the way down to individual occupations, industries, and MSAs.
LINKUP DATA DELIVERY METHODS
LinkUp labor market data is now available to our clients via Microsoft Azure and Google Cloud Platform. By leveraging scalable and secure cloud platforms, our jobs dataset – dating back to 2007 and capturing hiring information from more than 60,000 companies – is easy to integrate into existing dataflows.
LINKUP JOB MARKET DATA PERFORMANCE PAPER
Learn how job market data can be used in investment strategies. Download our LinkUp Job Market Data Performance Report to view four strategies using our data that generate returns.
Insights

:
Related insights and resources
February 2023 Jobs Recap: LinkUp data shows signs of cooling labor market

Read full article

December 2022 Jobs Recap: Decline in labor demand slows as 2022 closes

Read full article