Q1 2023 Economic Indicator Report Released
LinkUp has just released its Q1 2023 Economic Indicator Report that looks at labor demand at a macro level.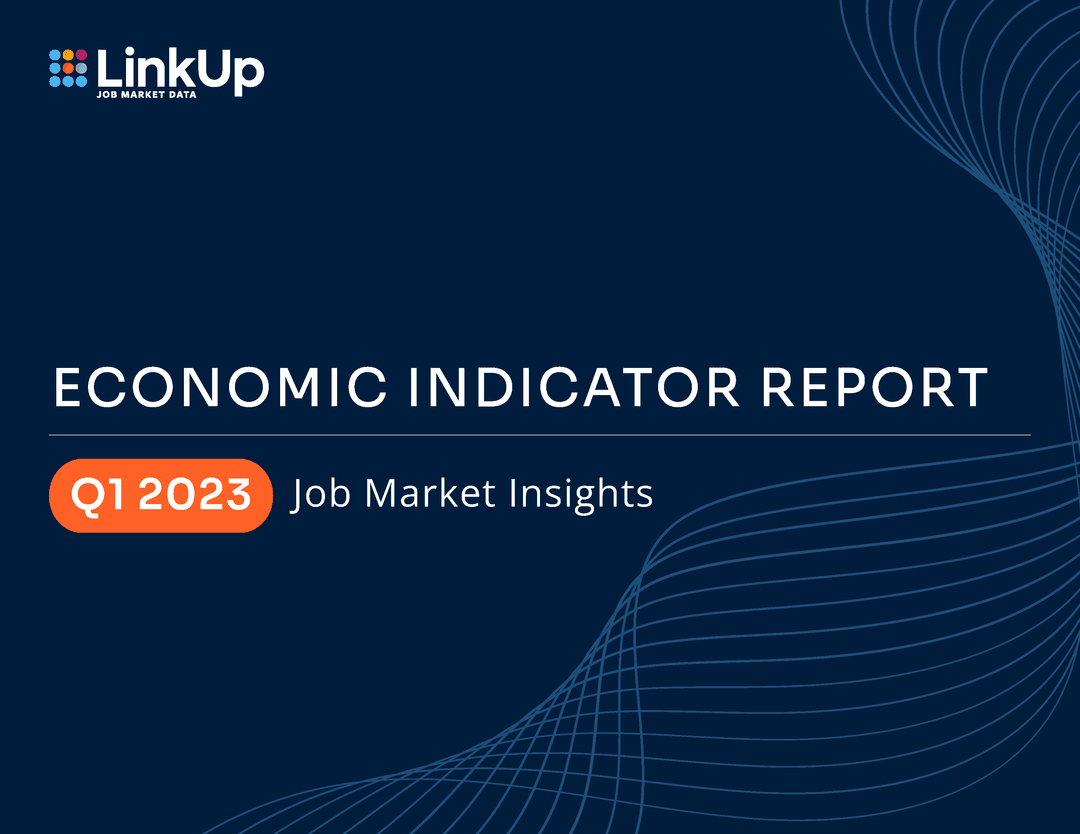 After consistent decreases in active job listings throughout 2022, LinkUp found that labor demand continued to slow through Q1 of 2023. While not as steep a decline as seen in Q3 and Q4 of the previous year, unique job listings decreased by 2.59% to just over 9M in the first quarter of 2023.
Compared to Q1 of 2022, the total volume of job listings this year was 17.82% lower. While overall job listings have declined, newly added roles have grown slightly (2.30%) during Q1 marking a shift after the majority of 2022 exhibited consecutive declines in new labor demand. Removed job listings decreased by 2.62% as the average number of days a job listing remained open (job duration) changed little.

Report Highlights
58% of states experienced decreases in job listing volume. States with the largest declines in job listings include:
Washington (-12.09%)
Iowa (-10.22%)
California (-9.28%)
Oregon (-7.71%)
Minnesota (-7.15%)
New York (-6.90%)
States with the largest increase in job listings include:
West Virginia (9.85%)
Mississippi (7.98%)
Florida (5.06%)
Rhode Island (4.63%)
Alaska (3.86%)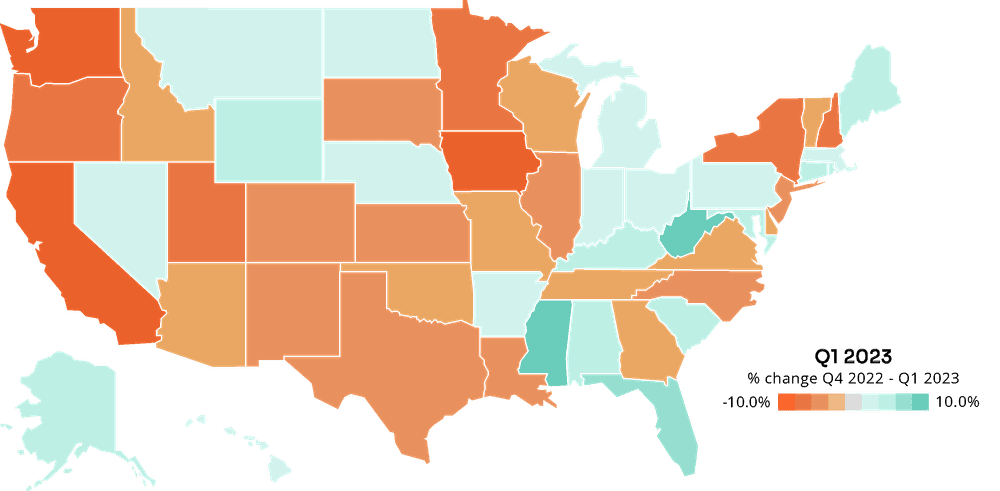 The downward trend in overall labor demand variance, or volatility, observed in Q4 2022 continues to rise throughout Q1 2023. To trace that variability at a more granular level, LinkUp aggregates job market data by North American Industry Classification System (NAICS) and O*NET-SOC codes.
While 54% of industries and 38% of occupations saw job listings decrease from Q4 of 2022 to Q1 of 2023, percent changes in listing volume vary greatly across individual categories. For example, at the industry level, the Postal and Courier subcategory of Transportation and Warehousing saw the greatest decrease of 40.88% while others saw a decrease of only a few points, such as Arts and Entertainment (-0.08%).

Download the Data
Download the Q1 2023 Economic Indicator Report now to examine all the data, maps, and graphs for yourself.
To receive new job reports like this directly in your inbox, subscribe! Or if you want access to our macro data, before our job reports are published, purchase a subscription to our U.S. Macro Data Package.
Insights

:
Related insights and resources
Stay Informed

:
Get monthly job market insights delivered right to your inbox.
Thank you for your message!
The LinkUp team will be in touch shortly.